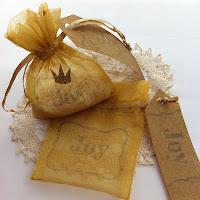 It's no secret that some craft ideas are obvious in hindsight.  Don't ask me why, but I only thought about stamping organza bags a few days ago while thinking of a way to finish off a wedding keepsake.
The how-to couldn't be simpler; 
Purchase organza bags in a size and color to suit your needs.
Choose a stamp that suits your theme.
Select an ink color which is dark (red, navy blue, dark green or black all work well).
Place a piece of scrap paper inside the organza bag (blank is best so you can see what you're doing).
Place all the bags you're going to stamp in a row on a table or bench where they can stay while they dry out (you need to leave them longer than when you stamp paper to fully dry).
Start stamping!
To finish these keepsakes off I made gold paper gift tags, using the same stamp (I like how the border turned into brackets), and added a golden crown sticker.  They're super sweet, fun, fast, and the results look fabulous.  Simply add your preferred contents, whether its potpourri, sweets, rice, birdseed, or Easter eggs... makes me a touch frustrated I didn't do this for my own wedding instead of hand sticking a gem to every bag, which was beautiful, but time consuming.  Hindsight's a wonderful thing...