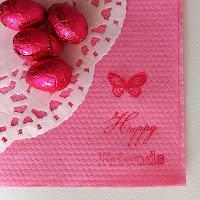 It's no secret that I only recently realised you can stamp much more than paper.  (I did a Valentines tutorial on
how to stamp onto tracing paper
, and two days ago, I
stamped organza bags
).
Today I'm stamping party serviettes.  Of course you can buy special napkins printed with names and dates, but why not make your own if the party isn't too large.
Here's what to do;
Choose napkins in a color to suit your party theme.
Select a stamp, or several stamps, that suit your theme (keep the design bold as fine details will be lost.)
Set up your stamp selection on clear acrylic blocks.
Choose a dark coloured ink.
Line up all the napkins you'll need, and 
Start stamping.  
The only negative I found in this process was that you had to re-ink the stamp after each serviette, as the napkin sucks up the liquid (as its designed to do!)
Negative aside, it's a perfect way to be quick and crafty this Easter, or for any party theme you choose... as far as craft projects go; this one gets my stamp of approval!