Have you been out away from any power and your phone is about to die? Then You should invest in a Power bank.
I usually have at least a couple with me. One for myself and another for someone else in my family. Cause they always forget theirs lol.
I was sent this power bank for review and i have tested this out.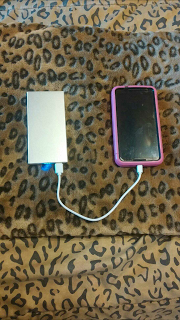 Here it is on the left plugged into my nexus 6 on the right.
Featuring Stalion Smart Technology which communicates with your connectected devices to enhance both compatiblilty and charging speed (up to 2 Amps)

Have your self an extra full charge or an additional 9 hours of Talk time for your iPhone 6 6s Plus, 5s 5C, Samsung Galaxy S6 S6 Edge+, Galaxy Note 5 and with most other smartphones you can benefit a 1 full charge or 90+ hours of music or audio playb

A stylish lightweight designs provides easy fit into your pocket or bag.

Constructed with Grade A cells and premium microchips to ensure the highest and best quality. Charge time: 3-4 hours.

Your package includes 1x Stalion Saver M5 5000mAh external power bank, Micro USB cable, and 24 Month Stress free warranty. (Apple Adapters- 30 pin and Lightning, NOT Included)
I love this. It gives me a full charge and fits nicely into my bag. I also love the small cord. Some of the others have such long cords that it really makes it hard to put some where without a cord dangling.
I am going to be taking this with me to rocklahoma.
Here is the
link