The night was clear and the moon was yellow
And the leaves came tumbling down

I was standing on the corner when I heard my bulldog bark
He was barkin' at the two men who were gamblin' in the dark
It was Stagger Lee and Billy, two men who gambled late
Stagger Lee threw seven, Billy swore that he threw eight
Stagger Lee told Billy, "I can't let you go with that"
"You have won all my money and my brand new stetson hat"
Stagger Lee started off goin' down that railroad track
He said "I can't get you Billy but don't be here when I come back"
Stagger Lee went home and he got his fourty-four
Said "I'm goin' to the barroom just to pay that debt I owe"
Stagger Lee went to the barroom and he stood across the barroom door
He said "Nobody move" and he pulled his fourty-four
Stagger Lee shot Billy, oh he shot that poor boy so bad
Till the bullet came through Billy and it broke the bartender's glass.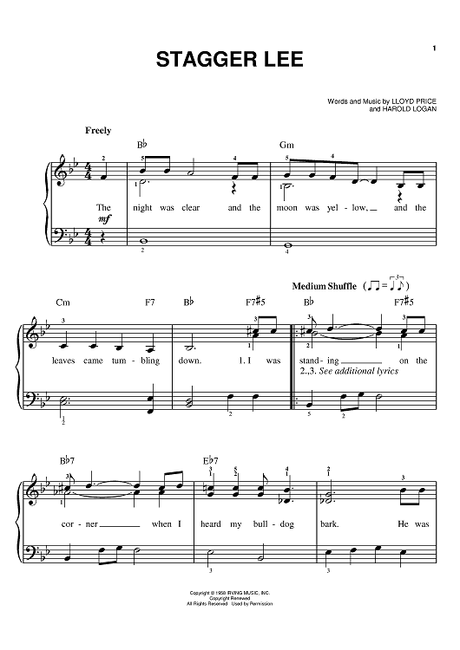 Lordy, what a great song. Can't tell you how many times I've listen to it or played it on the guitar. It just never gets old.
You have to admit, the words are intriguing. Who the heck is Stagger Lee? And Billy? And did Lee kill Billy over a hat and some cash? Does this song have any basis in reality?
You bet.
Some say it was Christmas Eve, others say Christmas Day, but most all agree it was 1895, that the events that spawned an iconic American song went down. So did young Billy Lyon who was shot and killed by Lee Shelton, a cab driver and pimp who went by the moniker Stag Lee, or Stack Lee, the story has many iterations. Apparently they had been drinking, gambling, and arguing politics, and of course the money on the table and the turn of the dice. Alcohol, gambling, and guns make a toxic mix.
Stag Lee apparently shot Billy in the stomach, took his hat, and walked away. He was quickly arrested, and then tried, convicted, and sent to prison where he died in 1912. There was nothing special about this murder, just another shooting on the mean streets of St. Louis's tenderloin district, but it was the stimulus for many songs that recounted the events of that day. A song that is truly iconic in the history of the blues and rock and roll.
I bet you can hear it in your head right now.
The song has been recorded under many names: Stagger Lee, Stagolee, Stackerlee, Stack O'Lee, Stack-a-Lee, and the list goes on. It is estimated that over 400 versions have been recorded over the last century, each with its own take on the story.
The version that most people know is the 1959 recording by Lloyd Price, which contrasts starkly with the version recorded by the great Mississippi John Hurt in 1928. It has also been recorded by The Fabulous Thunderbirds, Johnny Otis, The Grateful Dead, RL Burnside, Keb Mo, and many others.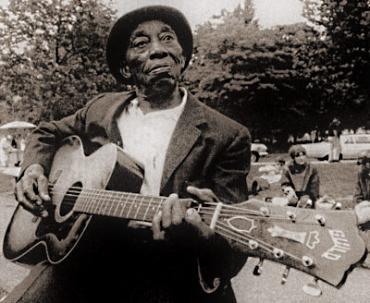 Mississippi John Hurt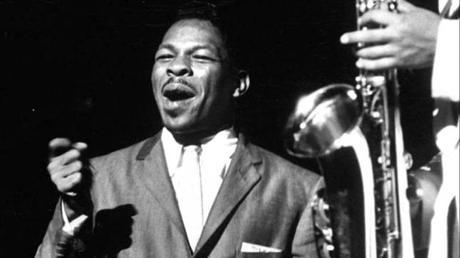 Lloyd Price
Want to know more? Here are a few links:
Lee Shelton: https://en.wikipedia.org/wiki/Lee_Shelton
Stagger Lee: https://en.wikipedia.org/wiki/Stagger_Lee
Lloyd Price: https://en.wikipedia.org/wiki/Lloyd_Price
Listen to two great versions of this song. You will all remember the Lloyd Price version for sure:
Mississippi John Hurt's Version: http://www.staggerlee.com
Lloyd Price's Version: https://www.youtube.com/watch?v=rxv4m7oiuvQ
Originally Posted on Le Coeur De l'Artiste: http://www.djadamson.com/lartiste/-doug-lyle-a-most-famous-christmas-killing