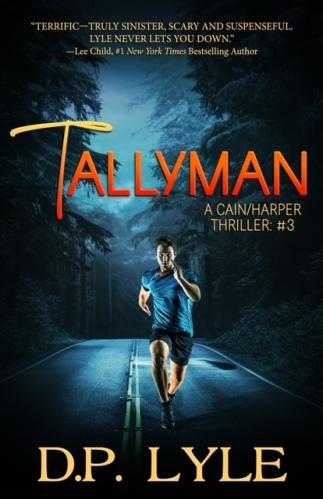 TALLYMAN (Cain/Harper #3) comes out today.
When Sonny Coleman is gunned down while on a late-night run near the community college where he teaches, his mother Erin Coleman, the US Ambassador to NATO, wishes to avoid his death becoming an international media circus. To this end, she hires Bobby Cain and Harper McCoy to discretely investigate her only son's death. Shortly after their arrival in the rural Tennessee town, the body of a young woman is found and it appears she is the latest target of a killer known as The Tallyman, due to his tauntingly carving the victim number into the flesh of each corpse. But the killer, after tallying four murders, fell silent for several years. Why has he resurfaced now and why is the latest victim marked with a seven? Are there two missing bodies? Is his reappearance connected to the seemingly random murder of Sonny Coleman? The suspect list is tenuous at best and Cain and Harper must sort through past and present crimes, as well as Sonny's life, to uncover a ruthless and truly sociopathic killer.
ORDER NOW:
Amazon: https://www.amazon.com/Tallyman-Cain-Harper-Thriller-Book-ebook/dp/B0B2YBXQ3Z/ref=sr_1_1?
B&N: https://www.barnesandnoble.com/w/tallyman-d-p-lyle/1141848086
IndieBound: https://www.indiebound.org/book/9780578295244
Books-a-Million: https://www.booksamillion.com/p/Tallyman/D-P-Lyle/9780578295244
Bookshop: https://bookshop.org/books/tallyman/9780578295244
PRAISE FOR TALLYMAN:
A fast-paced atmospheric thriller with endearing characters that stay with you long after you finish. A series that keeps getting better and better. Fans of Orphan X will love it.-David Putnam author of the bestselling Bruno Johnson series
Tallyman, the 3 rd in D.P. Lyle's Cain/Harper series, may be his best yet. It grabs you by the throat on page one and rides a roller coaster of tension, quality dialogue, and superior characters to the very end. This is a must read for thriller lovers.-Joseph Badal, Author of the Lassiter/Martinez Case Files Series
A dynamite addition to Lyle's Cain/Harper series. He expertly weaves his knowledge of true crime with a crackling plot and intriguing characters that fairly leap from the page. Highly recommended!-Weldon Burge, Author of "Harvester of Sorrow"
Book Review Crew Review
Bobby Cain and Harper McCoy, the brother/sister team, and dynamic duo PIs are back! They were raised by not completely legally-minded Gypsies, and then had their special skills honed by the US military forces. When an American Ambassador's son is shot to death on a back road near a rural Tennessee college town where he is a beloved professor, Erin Coleman seeks out the best there is to look into her only child's death. And fix it, like only they can. Sure, the FBI is on the case, but justice is not Ambassador Coleman's only concern. She wants her son Sonny's death avenged. The town is then rocked by the be the murder of a young woman whose death seems to mark the reappearance of the serial killer, dubbed Tallyman for the numbers he carves into his victims. Are these two killings related? If so, how? Cain and Harper must unravel the mystery to fulfill their promise to Ambassador Coleman.
Returning characters, Cain and Harper live up to their billing as tough, and smart. I always love his stories, and now Lyle grabbed my attention with these characters. Great as a stand-alone, or even better in the continuing series, Tallyman hits all its marks; I highly recommend this book!