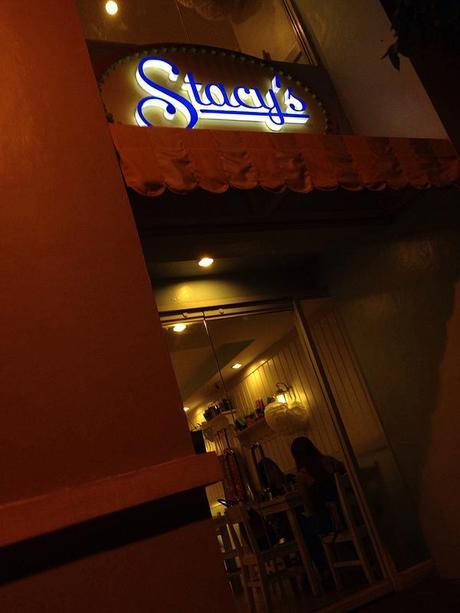 Though we do not eat there too often, Stacy's is one of our favorite places to eat in the Fort. The place looks great, it's hella near our office, the food is delicious, and it isn't extremely expensive! We've visited a couple more times since our first. Here, we'll share the new dishes we've tried.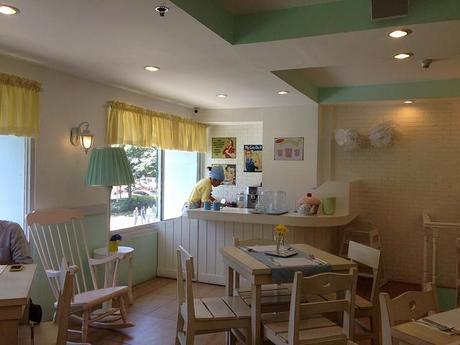 Of course, every time we visit the place, the ambience amuses us and takes us to a simpler and dare I say, better time.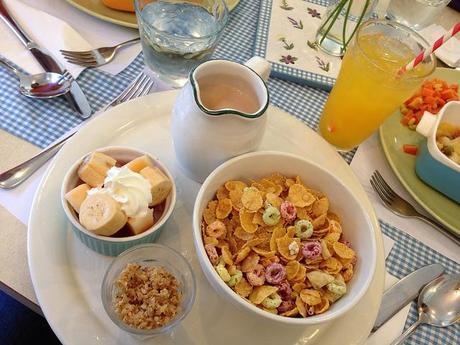 Cerealovers Mix, P185.00
The all-time go-to breakfast that's packed with fiber and vitamins!
Crunchy banana and nut cereal blended with Honey corn flakes, Fruit Loops and the nutty goodness of Stacy's home-made granola. Served with cold vanilla milk, a cup of fresh fruits and a glass of OJ.
Did I order this because I love cereal or simply because I am mildly compelled to go through the menu one by one and it happened to be the first?
Both
! This was really fun to eat. I enjoyed the combination of cereal along with the banana, and I savored the granola separately. The OJ wasn't bad too, and it added to the feel of making this a truly complete breakfast.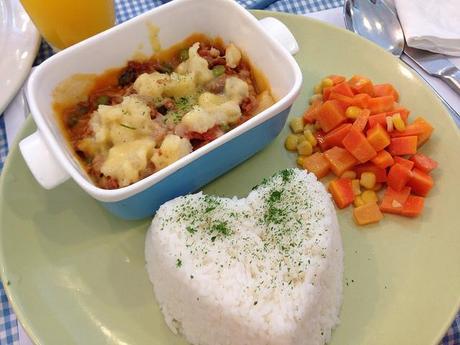 Layered Sausage and Potato Pie, P210.00
Casserole of ground beef and Hungarian Sausage bits crowned with cheesy smashed potatoes and served with herbed rice and good-for-you corn and carrots.
This one was good, but we wish there was more of it. Also, I guess it's just a case of the name sounding better than the actual dish. Probably my fault, the idea I had of layered sausage and potato pie might have been a tad grandiose. Lots of rice, and I always like corn and carrots.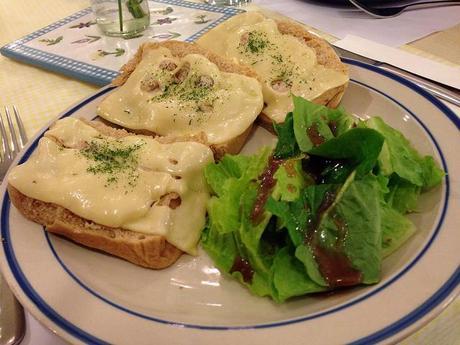 Jersey Shore, P195.00
Classic open-faced tuna melt with a New Jersey diner twist!
Creamy chunks of white tuna salad generously layered with tomato slices and gooey Swiss cheese, piled high on freshly baked whole wheat pandesal.Served with a side of healthy greens drizzled with sweet strawberry vinaigrette.
Another day, and I ordered (surprise, surprise) the second item on the menu. It sounded fun enough, anyway. I thought it might not be enough for me, but I was glad to see three of them pandesals on my plate. The cheese was indeed gooey and delicious. I was not overly impressed, since it looks like something I can make at home (and I can't make a great many things), but it seemed healthy enough and it did taste good so I still enjoyed.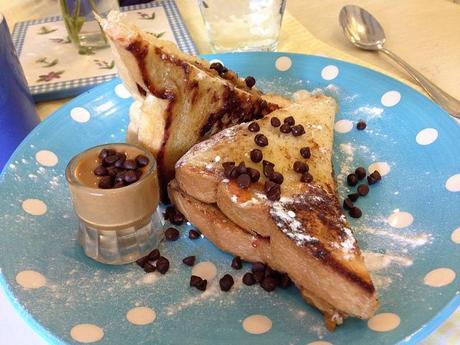 Monkey Toasts, P165.00
Fluffy pieces of cinnamon French toasts topped with sweet caramelized bananas, whipped peanut butter and dark chocolate chips. Works best with freshly brewed coffee.
Not healthy all the time, I ordered this piece of decadence which also happens to be the third item on the menu. It was very sweet and very good and I liked every bite. French toast is a personal favourite, and this adventurous, albeit sweeter version was no exception.
Menu:
All Day Breakfast, Hooray!
Everyday Soups & Greens, After Brunch Stacy's Specials

Verdict:
Cerealovers Mix: Very Good!
Layered Sausage and Potato Pie: Good
Jersey Shore: Good
Monkey Toasts: Good
I've eaten here another time too, and it is always a safe choice. I look forward to trying every one of their meals, in perfect menu order. Thanks for being around, Stacy's!
Love Stacy's? Hate it? Let me know by commenting below, or just
tweet
me!

Our First Visit:
Stacy's: The Sweet Kind of Retro
Other Restaurants in The Fort:
Brasas: Latino Heat
Chuck's Deli: Buffy the Sandwich Slayer
Good Earth Roasts (GER)
Gyu-Kaku: The Time is Ripe to Grill Some Tripe
Hungry Hound Pub + Kitchen & Niner Ichi Nana
IHOP: The Latest Pancake Craze
Jollibee: Ultimate Burger Steak and Flip Float
Kasbah: A Moroccan Lunch
Kebabers: Cheese Kebabs
Órale!: The Best Quesadillas
Pancake House: Cookie Butter Pancakes Surprise
The Best Pasta of Pasto
SM Aura Premier: Pepper Lunch Express under the Sky Park
Racks: My Favourite Ribs
Red Garlic Bistro: Trotting the Globe, Clove by Clove
S&R: My Favourite Pizza
Saboten: Enjoyin' Some Loin
Saint's Alp: Taiwanese Chicken Goodness
Sbarro: Rolling in the Deep Dish
Seattle's Best: Sea Salt and Salad
Stella Wood Fired Bistro: Nothing Less Than Stellar
Sunshine Kitchen: Second Dawn
Tapeo: Spanish Surprise at the Fort Strip
The Cheese Steak Shop: Philly Cheese Steaks in the Phillyppines
Toast Box: Going Goreng
Tokyo Tokyo: Burgers and Chopsticks
To
nchaya Japanese Kitchen & Bar: Okonomiyummy
URBN: Dining with Style
Uncle Cheffy: A Piece 'a Panizza
Wildflour's Cronut: The Doughnut and Croissant's Love Child
Wrong Ramen: The Weirder, The Better
Yabu: Bed of Rosus
Let Me See That Zong
STACY'S
Rizal Drive, Forbestown Heights,
Bonifacio Global City, Taguig City
(0926) 675-2571
Operating Hours:
11:00 am - 9:00 pm (soft opening)
Facebook: Stacy'sTwitter: @StacysResto

View Larger Map