INDIAN MENS SHOPPING and STYLE
❤ ❤ ❤ ❤ ❤ ❤ ❤ ❤ ❤ ❤ ❤ ❤ ❤ ❤ ❤ ❤ ❤ ❤ ❤ ❤ ❤ ❤ ❤ ❤ ❤ ❤ ❤ ❤ ❤ ❤ ❤ ❤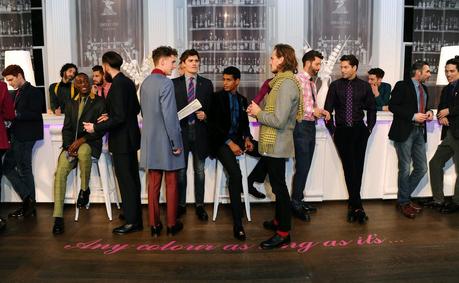 Press Release
THOMAS PINK CREATES UNIQUE PAPER INSTALLATION AND SHOWCASES MICHAEL CAINE INSPIRED AUTUMN/WINTER 2015 COLLECTION AT LONDON COLLECTIONS: MEN
-RUGBY STAR THOM EVANS JOINS MODEL LINE-UP-
On Saturday 10
th
January 2015, Thomas Pink, the leading Jermyn St shirt maker, unveiled its London inspired Autumn/Winter 15 Collection at the Institute of Contemporary Arts, as part of London Collections: Men.
Included in this season's model line-up was
former Scottish international rugby union player and Strictly Come Dancing contestant, Thom Evans.
Presented against the backdrop of a 30ft 'long bar' constructed entirely out of paper, each model bartender and punter showcased a different 'Pink' look. Built using crisp white 315gsm Kendal Manilla paper manufactured by James Cropper, the unique setup provided the perfect blank canvas for the brand's expanding ready to wear offering.
Blurring the boundaries between tradition and technology - paper and digital - guests were invited to leave 'off the cuff' written reviews on the paper bar using pink pens, which could then be shared via social media.
Florence Torrens, Creative Director at Thomas Pink, says;
"
Shirts will always be at the heart of what we do, but they inspire other pieces to complete the look. At Thomas Pink we're broadening our offer to include more tailoring, outerwear and knitwear. To highlight this we worked with James Cropper - the oldest traditional paper mill in the UK - and Flow Creation - a group of highly skilled paper architects - to build an installation echoing the blank canvas of a white shirt. Inspired by the architecture of the ICA building itself, we re-created elements of the room in paper to embellish the bar."
Frederik Willems, Head of Design at Thomas Pink, says; "
Autumn/Winter 15 is inspired by a heady mix of London's well known landmarks, motifs and characters. From Sir Michael Caine in the 1971 film 'Get Carter', to The Coach and Horses pub in Soho, we've drawn upon
urban influences to create a collection which is daringly bold and eclectic in style. We've played with weaves and texture to develop solid colours with subtle design features and added intrigue. Checks and herringbone play a pivotal role throughout."
Guests enjoyed cocktails mixed by Pontoon, made using Hennessy Fine de Cognac and garnished with paper foxes, whilst listening to British classics from The Clash, The Rolling Stones and Pulp. Continuing the iconic London theme, models wore Dr. Martens tasselled loafers.
Thomas Pink's London presentation precedes its debut at Pitti Uomo in Florence and Premium International Fashion Trade Show in Berlin, in January 2015. The brand's presence marks its move into key European territories and can be cited as a significant milestone in Thomas Pink's development as a wholesale business.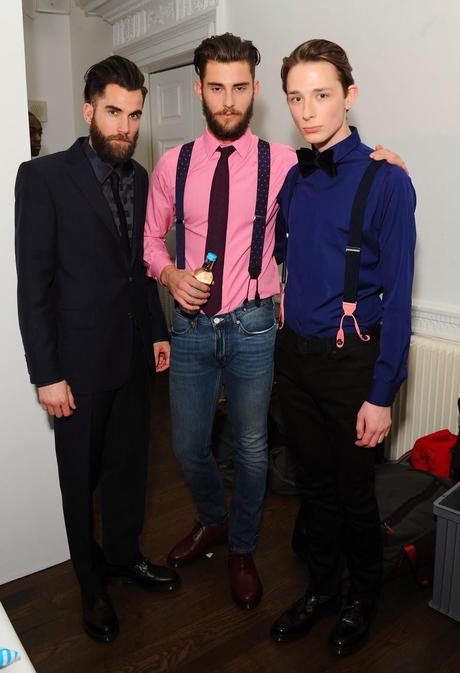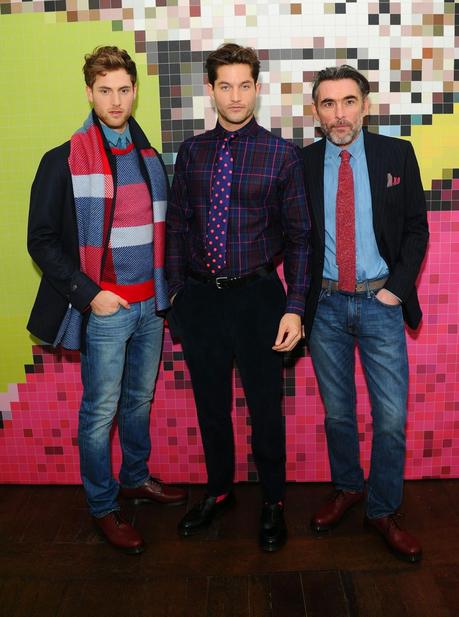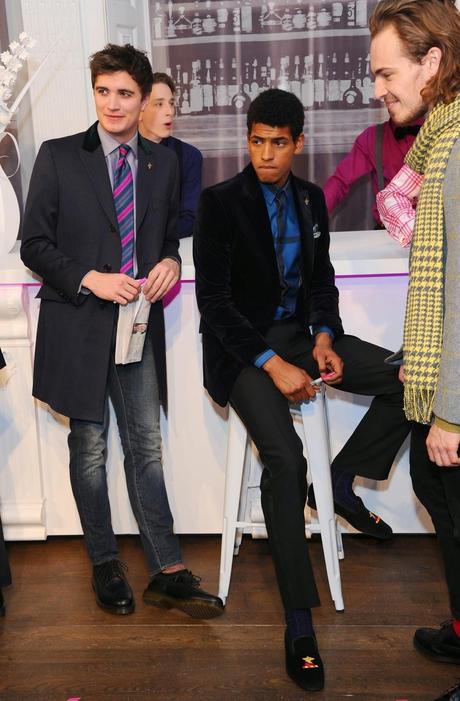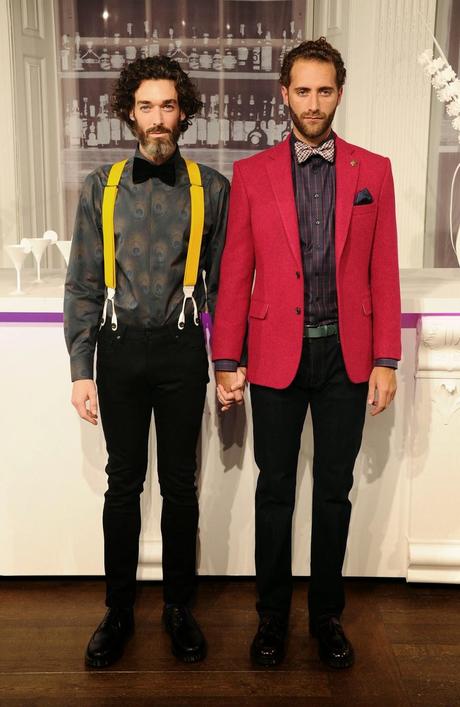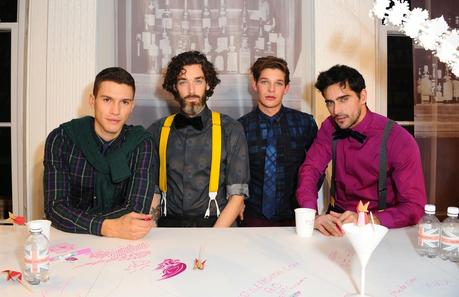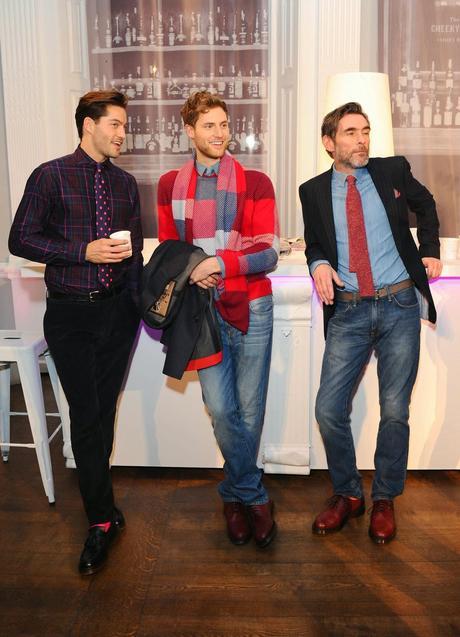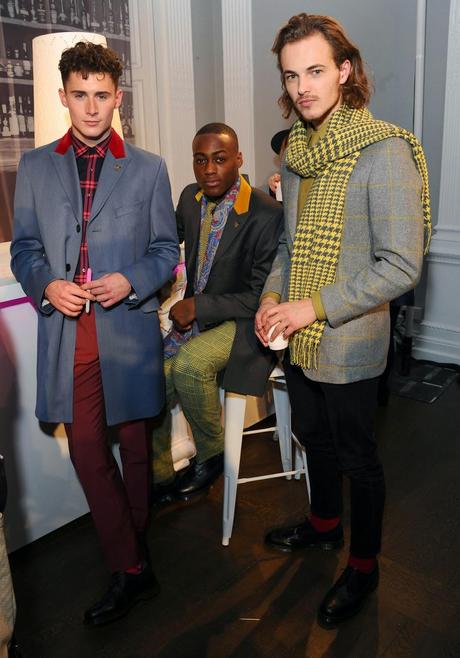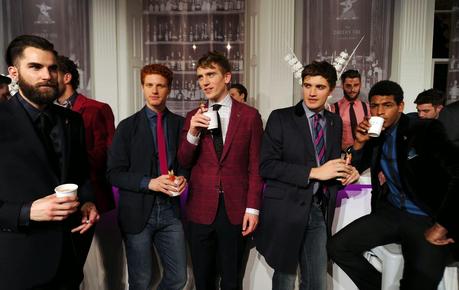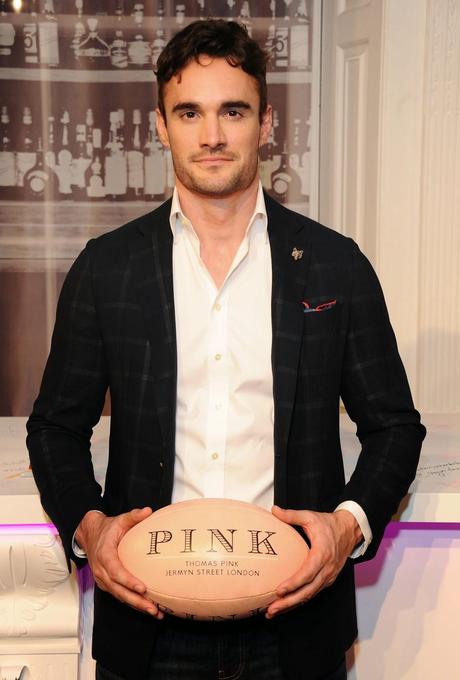 Autumn/Winter 15 collection notes:
Autumn/Winter 15 takes influence from Sir Michael Caine - one of London's sharpest dressers in the 1960's. The monochromic palette in shades of blue and gray celebrates his pared back style, whilst typically 'Pink' punctuations of mustard and raspberry can be found throughout. Key stories in the shirting range include 'The Davenport', a self puppytooth and the 'The Gibson', a fine satin twill. This season's hero piece is the Italian weave 'Caldicot' in indigo - a washed Chambray shirt in 80s two fold cotton which stylishly blurs the boundaries between formal and casual.
As the season progresses the collection references the urban metropolis that is London and celebrates its social landmarks and motifs – for example The Coach and Horses in Soho, which was frequented by Lucian Freud and
legendary columnist Jeffrey Bernard.
The color palette switches up a notch with raspberry deepening to red, mustard to amber and hues of green emerging, whilst rich melange textures begin to play a key role in the range. Shirting in fine Italian fabrics include the 'Edward', a window pane check inspired by London's iconic telephone boxes, 'The Bedford', a complex herringbone weave and the 'Finlay', a soft collar brushed poplin with amber overcheck.
Luxurious knitwear designed to be layered comprises the 'Askew' – a cashmere wool blend crew neck featuring an oversized tartan – and a selection of cable knits, v-necks and zip necks in luxurious cashmere, wool and merino wool blends in warm colours. Separately, Autumn Winter 15 includes a cashmere rugby jersey to mark 2015s rugby event of the year - as well as a range of accessories inspired by the great British sport.
This season's outerwear is travel focused and uses technical fabrics for maximum style and performance. The range includes an Italian made reversible jacket, a bonded wool rain coat and a deconstructed wool hopsack jacket. Autumn/Winter 15 also sees the introduction of a wool/mohair travel suit made from British fabric, which mixes high twist wool yarn with lightweight mohair fiber to create the perfect travel companion.
Traditional British outerwear includes stalwart sports jackets fashioned out of Fox flannel with foggy yellow overchecks, traditional Covert coats with contrasting collars in jewel tones and quilted jackets in collaboration with Lavenham.
As well as eveningwear, the collection incorporates a capsule party range inspired by Alfred Hitchcock's dashing and directional sartorial style. A quirky color palette of teal, magenta, indigo and purple compliment rich velvet accessories with silk printed peacock feathers, which sit alongside richly textured Donegal tweed and British Flannel blazers.
In shirting, spots and exaggerated Prince of Wales checks in bold saturated colours start to appear, whilst a super modern dark tartan shirt with bright highlights in an innovative 'breathable' fabric provides a point to the season.
NOTES TO EDITORS:
Part of the Moet Hennessey Louis Vuitton group, Thomas Pink  is a British shirt maker with flagship stores in London's Jermyn Street, Madison Avenue, New York and  Rue Francois Premier, Paris. Altogether there are more than 100 stores around the world – in USA, France, Mexico, Dubai, Hong Kong, Australia, China, Canada, South Africa, India and in the UK. As well as shirts for men and women Pink carries a wealth of luxurious silk ties, tailoring, knitwear and accessories.
Thomas Pink will also present its Autumn Winter 15 Collection at Pitti Uomo, Florence on the 13th to the 16th January 2015 and at Premium International Fashion Trade Show, Berlin on the 19th to the 21st January 2015. ABOUT JAMES CROPPER & TECHNICAL FIBRE PRODUCTS (TFP) James Cropper is based in the Lake District, England's first and foremost National Park, with a paper-making heritage that started in 1845. Since its inception the business has been carefully stewarded and nurtured by six generations of the Cropper family. Today the business is renowned globally for its luxury packaging papers, which accompany many of the world's most exclusive brands, while the world's leading artists, galleries and museums use its framing and archival boards alongside its range of conventional artists materials.  As well as paper products, James Cropper also manufactures nonwovens from carbon, glass and polymer fibres, which play a key part in production of composites in the automotive, energy and aerospace sectors. Technical Fibre Products (TFP) is a leading nonwoven manufacturer, offering a broad range of high quality, technically advanced nonwovens into the composites market, which can be customised to meet specific application requirements. Established nearly 30 years ago, TFP primarily operates within the automotive, and aerospace composite markets while also providing effective solutions in the defence, energy, consumer electronics, industrial, construction and healthcare markets. Utilising extensive materials knowledge within polymers, particulates & speciality fibres together with high specification lamination, metal fibre coating and converting capabilities, TFP provide a wide range of customised solutions. To find out more about the innovative production methods, product range, responsible manufacturing principles and history of James Cropper and Technical Fibre Products, please visit www.jamescropper.com and www.tfpglobal.com
ABOUT FLOW CREATIONInitially set up by Sam Robins in 2013 as an exhibition specialist; FlowCreation has flourished into an all-round provider of creative solutions for commercial spaces. We aim to bring a fresh, out of the box creativity combined with sound knowledge of the manufacturing process to all manner of projects such as interiors, exhibitions and installations for events.  Our unique skill set enables us to work closely with creative directors and marketing teams to take the brief from initial concept to a high quality product that not only works aesthetically but functions in the real environment. ABOUT MOET HENNESSYHennessy Cognac was established in 1765 by Richard Hennessy and is the no.1 selling Cognac world-wide. Hennessy has always ensured exceptional quality and craftsmanship by mastering each stage of the production process. Since 1800 the Master Blenders have carefully transmitted their knowledge of methods and preserved past experience for future use, from generation to generation. Today's Master Blender, Yann Fillioux - 7th generation of the Fillioux family - keeps the tradition alive. Hennessy owns the largest reserve of rare eaux-de-vie in the world. At Hennessy, every single barrel of eaux-de-vie is tasted annually, to ensure the highest quality. Hennessy also has a reputation to lead innovations. The Maison developed a new Cognac classification with the 3 star VS Cognac in 1865 and created the first ever X.O (Extra Old) Cognac in 1870 - The Original. ABOUT TERRAZAS Building upon many years of research and development on Mendoza´s terraced microclimates since 1959, Terrazas de los Andes has established a core wine philosophy based on Argentina´s primary advantage in the world of winemaking: high elevation grape cultivation. By leveraging the unique Mendoza topography at the foothills of the Andes Mountains, Terrazas de los Andes has emerged as a 21st Century pioneer in capturing the essence of Argentine fruit expression and forging a distinct national style. ABOUT PONTOON PONTOON is a range of expertly blended bottled cocktails, created by a team of cocktail mavericks who traveled the globe in search of the best natural ingredients.
Over the last five years, our master blenders have shaped thousands of different recipes to create cocktails that are the perfect balance of fresh and complex.
Expertly constructed yet unbelievably simple, PONTOON captures the pioneering spirit of the golden age of aviation, when intrepid travelers soared the Atlantic; an era when the world stopped at five o'clock sharp, drew closer and raised a finely crafted cocktail.