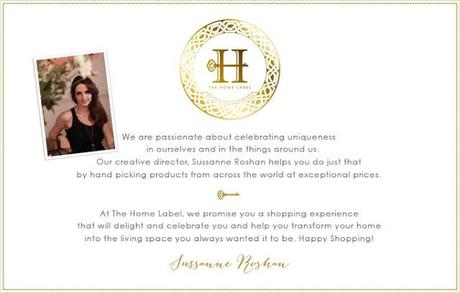 TheHomeLabel.com
I keep looking for more and more options to shop for home decor and lifestyle. So I am excited to tell you about Suzanne Roshan's TheHomeLabel.com that I describe to be "One of the Stops for Modern Home Decor with Antique Uniqueness". 
If you love your house, decorating your house, shopping online for household items, you live in Mumbai and love The Charcoal Project by Suzanne Roshan then you are bound to love TheHomeLabel. I got a chance to read about The Charcoal Project in a magazine
(I think it was Marie Claire/Elle for sure.)
and was really impressed by what I could see in magazine pages. Once I felt like I ought to see this place once I am in Mumbai.
QnA with Suzanne Roshan
VOGUE: 
What sets The Home Label apart from other décor shopping websites?
Suzanne Roshan:
  "Each product has a story," Roshan explains. "For every product we give you a reason why you should buy it. Most e-commerce sites focus on a product lists, they don't have stories. They don't tell you why the products are made or a reason you'd want to have this in your home."
"Take the Ginger Jar for example. It's an old looking cookie jar printed with antique trees. It reminds you of when you're a young kid and had cookies out of your grandmother's jar. It evokes a memory or an attachment to something you've gone through in your life. That's what we're trying to recreate."
"We're not just selling one item. We're selling an idea; we're curating a thought. We're giving buyers a sensibility, which isn't necessarily from one product but could be from a group of products put together."
Read more here
As an online shopping enthusiast, I'd say I am happy to have another option. I do love some pieces but after all who doesn't like pretty and beautiful pieces. But as a serious buyer, I'd say I found a lot of digitally printed pieces which certainly have some story in it as Suzanne mentioned above. It also proves my statement "
One of the Stops for Modern Home Decor with Antique Uniqueness
". However a lot of pieces are something that you can easily find in shops around or on other websites for less. I also didn't find the uniqueness on the website like I did in The Charcoal Project. I need an extra kick in the flavor of items that Suzanne has to offer on THL.
I'd like you all to visit THL and let me know what you think of it. Do you agree with me or beg to differ?
See you next time!

  =====================================================
Disclaimer:
The information is based on an interview of Suzanne Roshan with Vogue India. To know more, please read my
Disclosure Policy
.