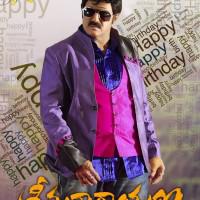 Movie: Srimannarayana
Director: Ravi Chavali
Cast: Balakrishna, Isha Chawla and Parvati Melton
Rating: **
Balakrishna is back with what he`s best at doing – playing a never-aging hero, with two heroines by his side, and lots of bad guys to kick. Unfortunately, "Srimannarayana" has turned out to be a disastrous follow up to the super successful mythological film "Sri Ramarajyam", in which the protagonist was seen playing Lord Rama with precision.
In a never seen before role essayed by him, Balakrishna plays a TV journalist who fights for the plight of farmers.
Based on a socio-political theme, "Srimannarayana" narrates the story of a righteous journalist and his battle against exposing the misdemeanour of three crooks – Bail Reddy, Pulakesava Reddy and Harshad.
When found guilty and charged, the three vow to take revenge. Sri also gets to romance not one but two heroines – Isha and Parvati, forming a love triangle much to everyone`s revulsion.
Although Ravi Chavali deserves some credit for handling a subject of such sensitivity, he's to be blamed as well for not giving it a satisfying execution. His effort to show Balakrishna as a larger than life character seems to have taken away all his concentration from the script.
With 97 films in his kitty, three short of a milestone, Balakrishna puts up a show that will definitely appeal his fans. However, he appears desperate in this endeavour as he's ready to accept every film, irrespective of its quality, coming his way. As usual, this film is also packed with dialogues written specially for him and gravity-defying stunts that appear little far-fetched.
Parvati Melton and Isha Chawla don't have much of a role and are included in the film with a sole purpose to bare some skin. Parvati looks stunning after losing some weight. Of the two Parvati's part was considerable and she carried it with a lot of energy.
The film stands strong on the technical front. However, it fumbles in the most important departments such as screenplay, cinematography and music.
Balakrishna's look in particular was a turn off and will leave you with the question – did he look in the mirror before going for the shoot?
In essence, "Srimannarayana" is all style, no substance.
This review was originally written for IANS news-wire