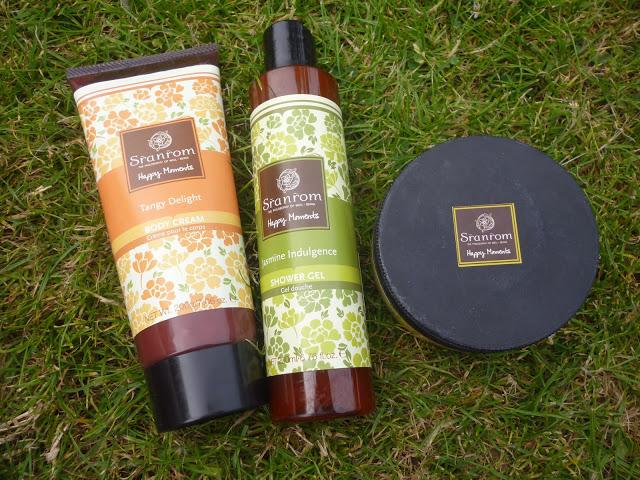 I had never heard of Sranrom until recently and I am so glad to have been introduced to the brand.
Sranrom was created by two Thai career woman who were both raised in regular Thai homes where traditional knowledge and herbal antidotes were used in their daily life.
When the two woman met they realised they shared the same passion and that was when Sranrom was born.
The products are formulated and produced in Thailand and the word 'Sranrom' describes the wonderful , and most desirable feelings of pleasure, serenity and contentment which the woman thought captures the mood and beauty of the range perfectly.
They use Thai plants and herbs in the products that are carefully selected for their therapeutic properties as well as their ability to regulate your emotions and benefit your over all health and our earth.
I have been trying three products from the Happy Moments range and I love them.
Firstly is the Tangy Delight Body Cream* (£12) which is a citrusy smelling body lotion. It has Lemon and orange in which are known for their uplifting qualities as well as tangerine, mandarin, California Bloom and lime.
This has the most amazing uplifting scent that stays on the skin all day. The cream is fairly thick but massages into the skin easily. It contains Vitamin C and toning fruit enzymes which leaves your skin so smooth and with a radiant glow.
The Shower Gel (£10) and Body Scrub(£16) are in the scent Jasmine Indulgence. Jasmine is know for its purifying effect and is a very refreshing scent. It is added with Centeea and Aloe vera which tighten and replenish the skin.
I think the Jasmine Indulgence Body Scrub* is my favorite out of the three, it is a fairly rough scrub that smells refreshing and leaves the skin smooth. Using this with the Jasmine Indulgence Shower Gel* I am left with gorgeous clean, soft skin that smells divine.
Overall I am really impressed with all three products and I will be checking out more from the brand.
All Sranrom products are, Naturally derived from essential oils, 100% Essential oils, have no Mineral oils, silcone, synthetic polymer, artificial colourings, synthetic fragrances and no animal derived raw materials.
You pick all three of these products up from the Website here.
Have you tried anything from Sranrom before?
*PR Samples