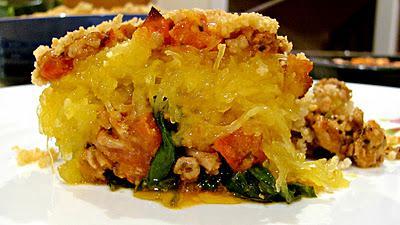 Hungry husband likes squash. Only if it involves a racquet. When it comes to squash the plant, he is pretty apprehensive about it. Last Friday, when I responded to his question, "What's for dinner?" with, "Squash Casserole," I could see disappointment in his eyes. But a hungry husband never passes on a plate of hot food so I did get him to try my new recipe.... made up from a few simple ingredients found in my fridge that evening.
At first, I thought of calling this dish squash lasagna because of the layering involved but casserole seemed more fitting especially since I cooked it in a casserole dish and topped it off with crunchy couscous and Parmesan cheese. I don't have an exact recipe unfortunately but did find this one. I cooked the ground turkey with onions, garlic and spices (cumin, black pepper, ground ginger, salt) and added 1 can of diced tomatoes as well as chopped fresh tomatoes, and a bunch of baby spinach. I microwaved the squash until tender and scooped the "spaghetti" with a fork. I layered the squash on the bottom of the casserole dish and then added the ground turkey mix, then some more squash and more ground turkey. I topped it off with a couscous and Parmesan mixture (that's all it is. cooked couscous with some Parmesan cheese) and put it in the oven until it was golden on top. Voila!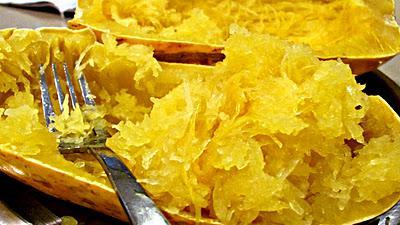 It was yummmmmmmmmmy. Totally healthy and delicious. Hungry husband's only criticism was, "It needs more spice, more heat." Noted. I'll make sure to add some chili flakes next time. I love experimenting with the squash family. Next is a pumpkin chili recipe I've been thinking of trying. Stay tuned.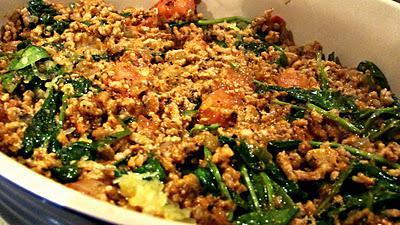 Enjoy!F2