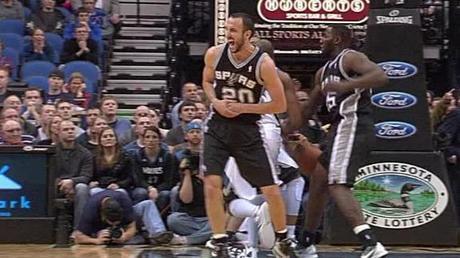 Photo: espn.go.com
- Adam Parker
San Antonio Spurs Guard Manu Ginobili broke his left hand in Monday night's loss to the Minnesota Timberwolves and is reportedly out indefinitely.
A two-time All-Star, Ginobili was injured on a reach-in foul on Anthony Tolliver when he rose to attempt a shot late in the second quarter Monday night. Ginobili immediately grabbed his shooting hand and crouched in pain near the scorer's table as the team trainer came to his side.
Ginobili was taken for X-rays, which revealed a broken fifth metacarpal, below his pinkie.
This is a tough blow for the Spurs to take, especially considering that Manu Ginobili is easily the team's most important offensive threat with his exceptional shooting and underrated play making skills.
I never like to see anyone hurt, but as a Phoenix Suns fan who absolutely despises the Spurs with every fiber of my being, I have to chuckle a little at this one. Karma has finally made it's way back around to the Spurs for all of the times in past playoff series where they took cheap shots Steve Nash.
The memory of Robert Horry hip-checking Steve Nash into the scorer's table like it was a hockey game during the 2007 NBA Playoffs is forever branded into my mind, and I've honestly lost count how many times Nash has walked off the court after a game against the Spurs with either a bloodied and/or broken beak.
Oh, and who can forget Tim Duncan's inadvertent elbow to Nash's right eye that swelled the eye shut and required six stitches after the game?
Karma, anyone?
Some people, especially Spurs fans, may not care for my opinion, and that's okay.
I don't want to sound like I'm pleased with Ginobili's injury, because I'm not. It's tough to see a team lose it's best player to injury for any period of time, so the fact that San Antonio has set no timetable for Ginobili's return makes the situation exponentially worse.
"It's going to be tough for us because he was playing at an All-Star level," said point guard Tony Parker. "And now we're going to have to have everybody pick it up."
The loss of Ginobili couldn't have come at a worse time.
Ginobili, the team's leading scorer, is the emotional and fiery centerpiece to a proud, veteran-laden Spurs squad. And with the Spurs limiting the aging Tim Duncan to keep him fresh for the postseason, Ginobili's perimeter shooting, ability to create for others, and out-of-the-box methods of getting to the rim, are more paramount to the Spurs' success than ever before.
The always-cryptic Spurs coach Gregg Popovich said it best, "Manu is pretty important to us and we lost him. We'll just have to deal with it."
That could prove easier said than done.
Ginobili to me is a poor man's Argentinian Kobe Bryant.
Good luck, San Antonio!
Be sure to follow Beard And Stache on Twitter 
@BeardAndStache
, 
and also Adam 
@Adam_Parker43
, Like our Facebook page 
HERE
!