*** Hello from South Africa! We've been lagging on this post, mostly because internet access has been so difficult in Rocklands that I haven't been able to go through the photos. I'm in Cape Town for the next week or two, recovering from minor surgery (I had a cyst removed, and thankfully all is fine). While I'm sidelined from climbing and have internet access, I thought I'd take a stab at summarizing our February through May in Cataluña, Spain. xo Angie ***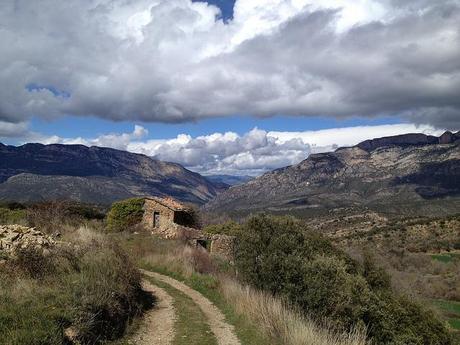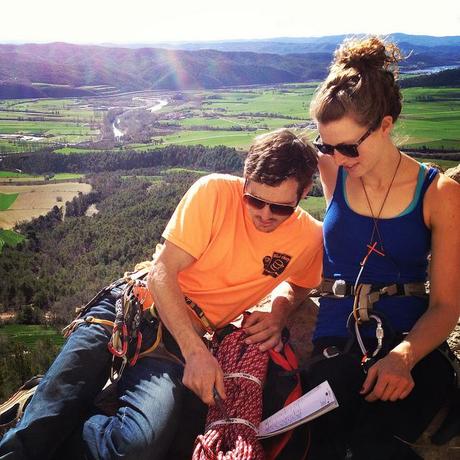 This year, we decided to keep on our nomadic journey but give it even more of a climbing focus. Cataluña, Spain and Rocklands, South Africa had among our favorite climbing destinations, and we decided to flip between the two: sport climbing in Spain in the spring; bouldering in Rocklands for the winter (Northern Hemisphere summer); then a return to Spain for the autumn where we'd (hopefully) tackle some bigger projects with more power from all that bouldering.
As we had spent a lot of time in Siruana last year in Spain, we aimed to check out spots in northern Cataluña, which is dotted with famous limestone crags… and full of climbers from all over.
We rented an apartment in a tiny town called Figuerola de Meia, located off the pass which runs between Camarasa and Terradets. But before we found it, we posted up in the barn of the friendly mayor of Sant Llorenc de Montgai (he also runs the town's sole bar/cafe/meeting spot).
Our barn dwelling brings us horses as neighbors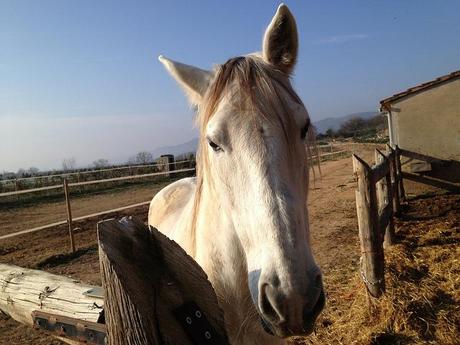 Evening light catches the cacti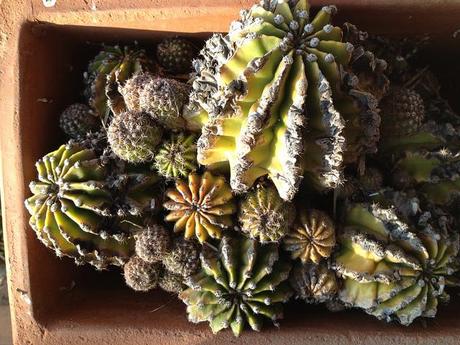 The happening plaza mayor of Figuerola de Meia, population: 6. Our rented apartment was in the building at the edge of the photo on the left.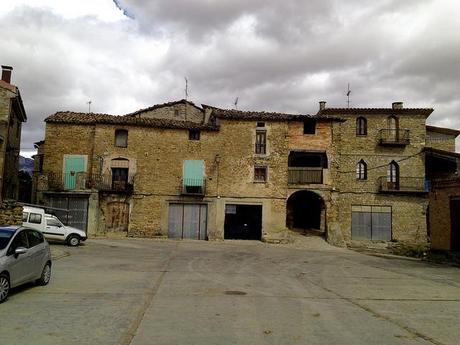 Double-rainbow in the fields below our town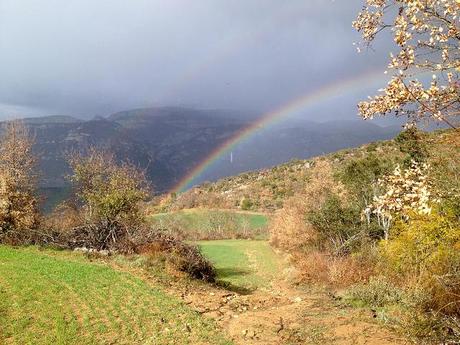 We were lucky to host a bunch of friends at our place. Dinner parties were had and Scrabble games were won and lost.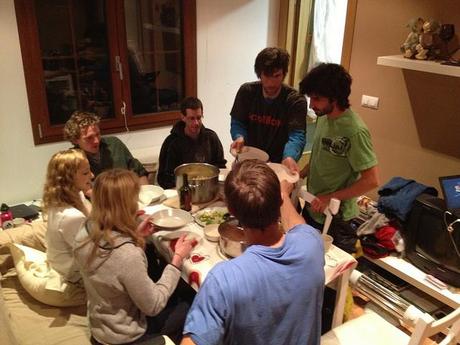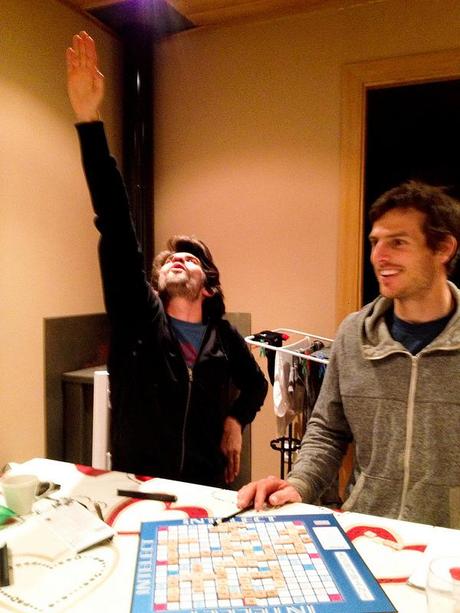 We came to Spain not just to climb but also with the mission of buying a little house or plot of land to use as a base for future time in Europe.
The experience gave us a set of new vocab words, a better understanding of Spain's confounding land laws, and a closer look at Catalan culture… not to mention an excuse to traipse around some beautiful pieces of land and explore tiny hidden towns and villages.
Enchanted by the stunning views from Os de Balaguer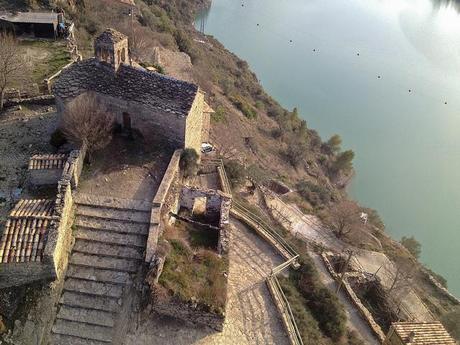 Old farming tools decorate the streets

Land-looking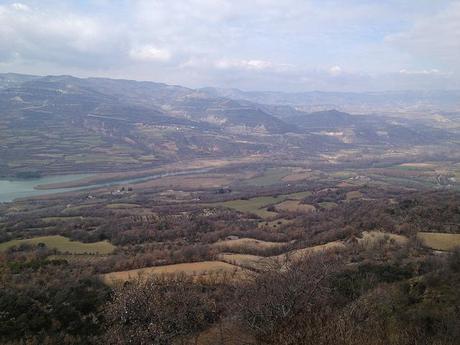 Ruin-hopping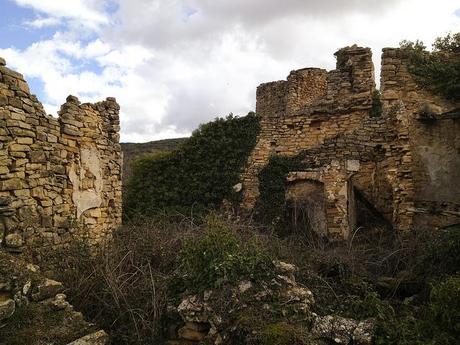 Views from the hermita at Sant Llorenc de Montgai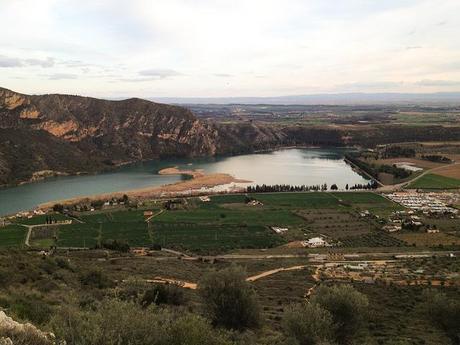 Fallen butterfly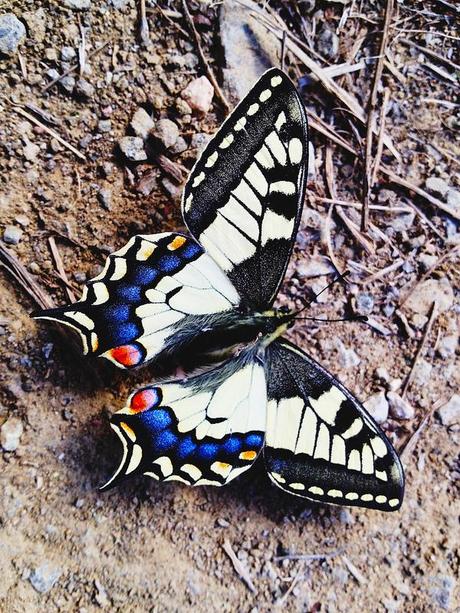 Plazas and their fountains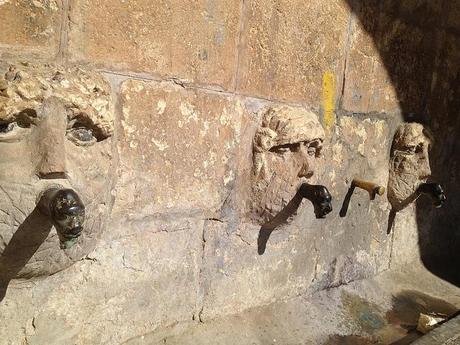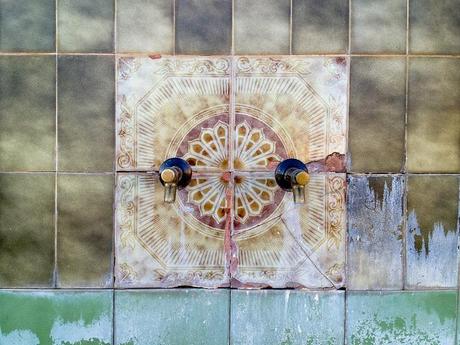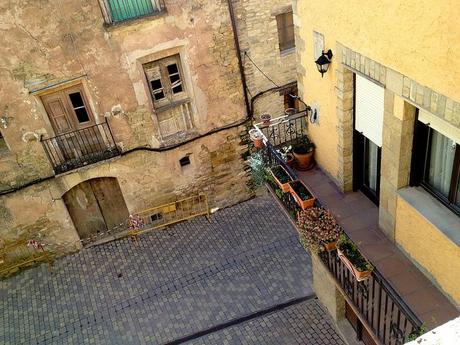 Laundry day
Like elsewhere in the world, most young people are heading to the cities for work, which leaves these little farming towns feeling like abuela-ville. I found this brochure advertising an elderly 'playground' rather amusing.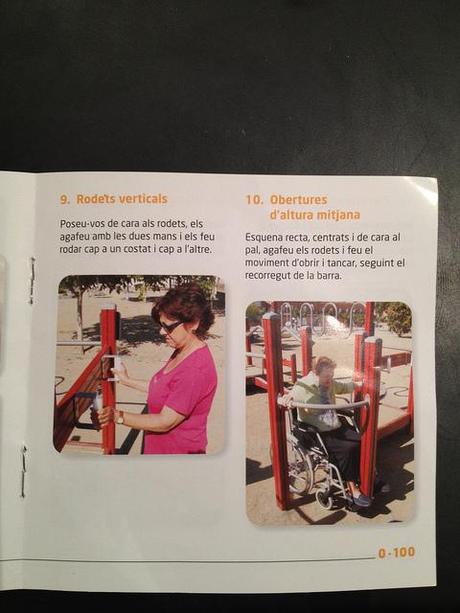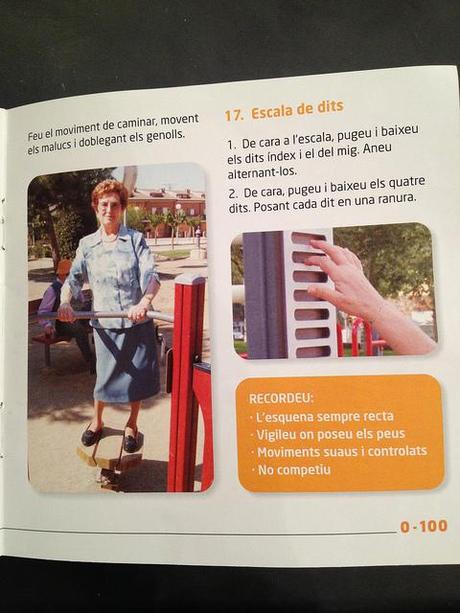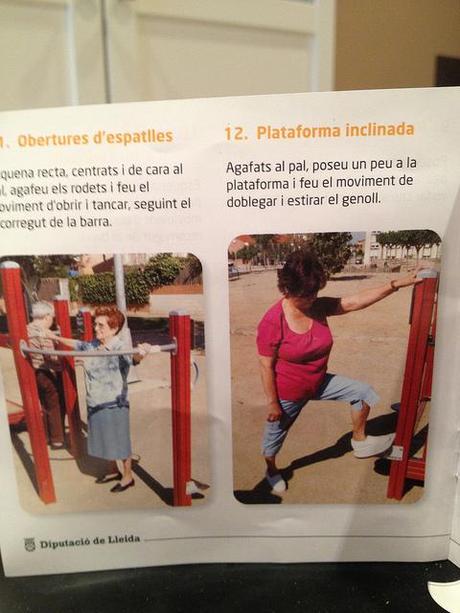 Nighttime sets in on Sant Llorenc de Montgai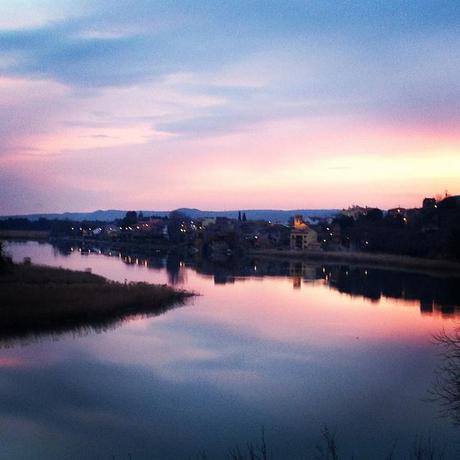 While dreamy in theory, the actual down-and-dirty investigation of buying property in Spain is not necessarily fun. Everything seemed possible at first, until we began to realize the difficulty of Spain's archaic land laws. It turns out that all those ruins are zoned for farming only, and most (if not all) of the houses people have built on them are technically illegal. We turned our attention to finding something in a town, but most things just weren't speaking to us. Or within our price range.
In the end, we put in an offer on a semi-complete loft apartment in the town where we were staying, only to then discover that it sat perched on a structurally unsound building and was held up by temporary scaffolding. We felt silly to make such a rookie error. With the help of our friend Miki who stepped in when our Spanish skills couldn't keep up with the argument, we escaped with our deposit. The escapade is one I don't think either of us will soon forget.
We took the next few days to recover from the drama and have a think about what was next. We looked at some more houses and apartments, but suddenly the whole idea seemed flawed.
The idea of having a vacation home in a tiny town tucked away from it all sounds charming, and we had arrived so determined to make it work. But we were also finding living so tucked away to be lonely and inconvenient. Spanish climbers all seem to have vans, and they roll around in little packs depending on whim and weather. Instead of being able to join them, we were getting into our car at the end of a long day of climbing and driving 30 minutes, sometimes over an hour, to get back to our place.
Sheep crossing on the way home from climbing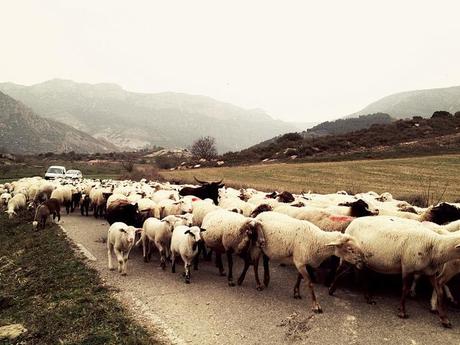 Amazingly, mail and packages were hand-delivered to our doorstep, despite being so off the main road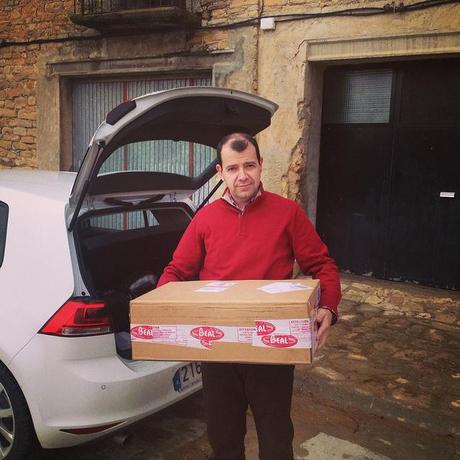 Our friend Miki had recently bought an autocaravana (RV or as South Africans say, campervan). He kept recommending that we consider that rather than a house. An idea we had once dismissed suddenly had appeal: if we owned an autocarvana, we could park it right at the crag. We didn't have to commit to any one part of Spain. In fact, one day, it could take us all over Europe… for a climbing holiday or something else entirely.
Miki at home in his autocaravana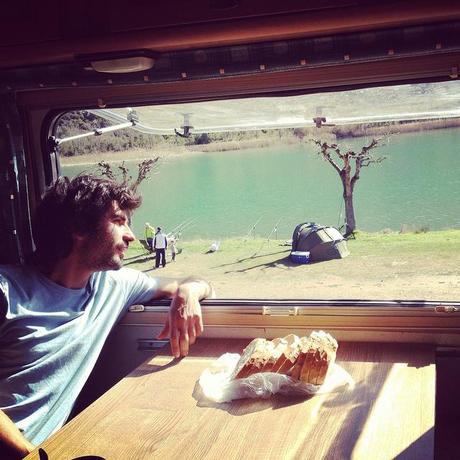 In a sudden change of tact, we dropped the land idea. Within 24 hours had found and purchased this little gem, a 1987 diesel Fiat Ducatu autocaravana. Suddenly, the land idea felt silly. This was so much more our style, so much simpler, so much less committing.
Et viola! There she is in all her glory. We still haven't named her. Any ideas?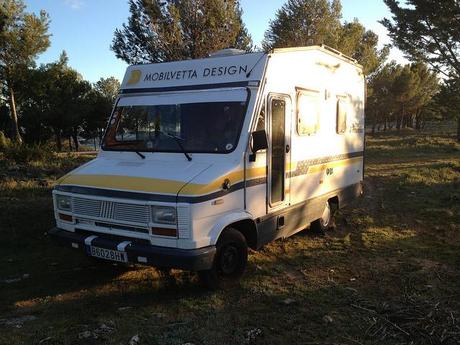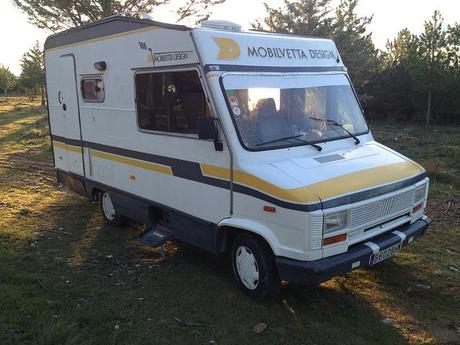 On her first test-camp, in the parking lot of the Terradets refujio, we concluded we'd made the right call. And we haven't looked back since.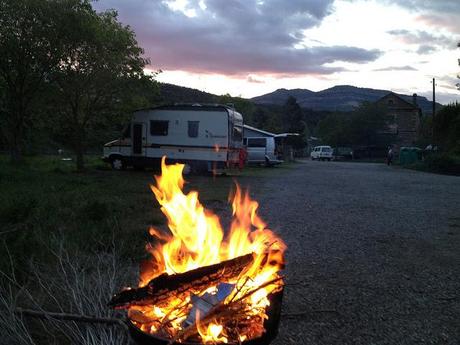 Unfortunately, all this land-looking left us a little short of energy for climbing photo-shoots. We did do quite a bit of climbing.
My personal favorite new crag that we saw was Los Bruixes in Terradets. Gorgeous slightly overhung limestone with fantastic views. This wall catches lots of sun, which makes it perfect for cold winter days. It's also home to my first-ever 7b, Jam Session. I hope to tick more routes in this area when we return this fall.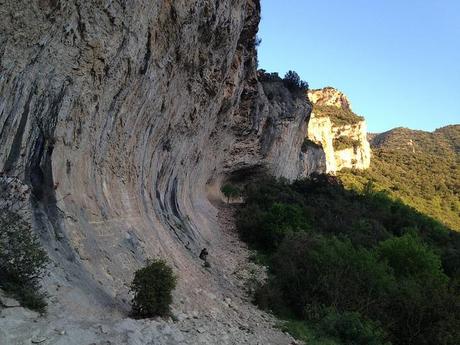 Andrew's laundry-with-a-view, looking at from Los Bruixes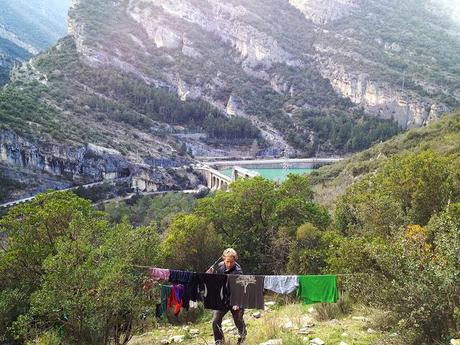 Steve was especially into Santa Linya, a huge cave on the edge of a farming town. Steep and boulder-y (aka completely not my style and totally his)!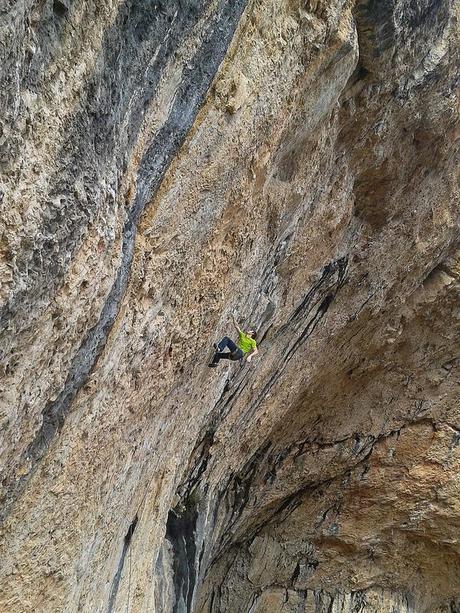 And Oliana is an amazing crag with such long, beautiful, hard routes. The view isn't too bad, either.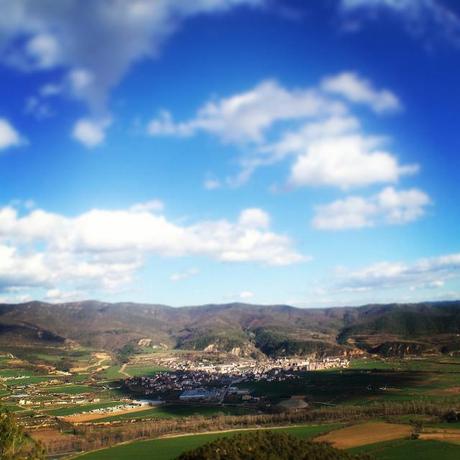 We were hit with a lot of rain towards the end of our stay. On a whim, we headed down to Madrid to see our friends Juanma and Helena, who graciously took us in on short notice.
Steve mans the wheel on her maiden road trip voyage to Madrid. (I admit I have yet to drive it!)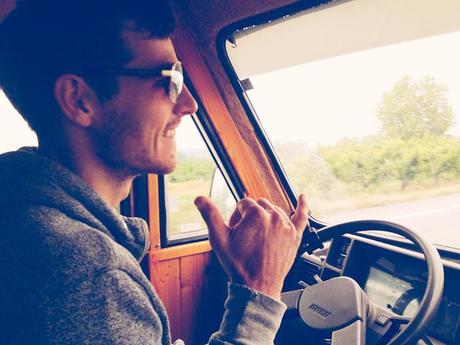 Jualena entertain themselves on their first ride in our campervan (yes, I refuse to refer to it as an RV)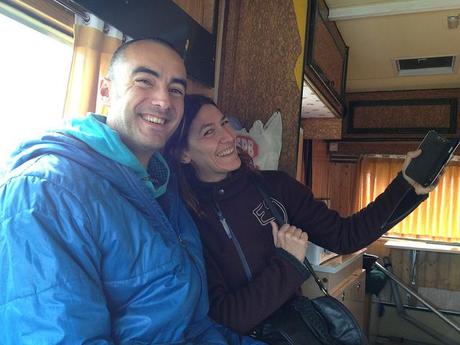 We headed off the Cuenca, a few hours from Madrid, for a week of blissful campervan living and climbng. Living with your house trailing behind you turns out to be pretty amazing. #wordsineverthoughtidsay
Breakfast, Spanish style, at one of the campervan sites in Cuenca. Lots of toastadas y cafe consumed.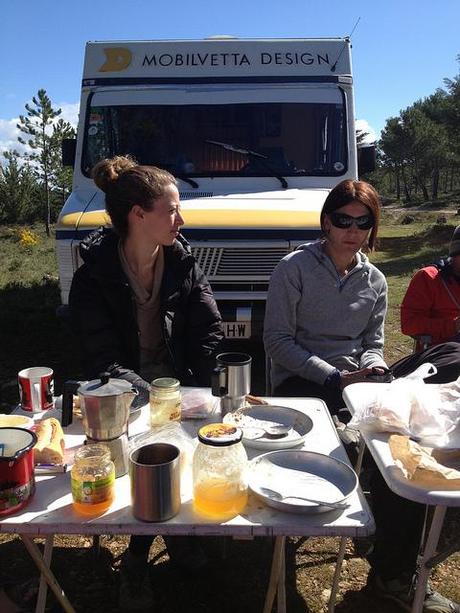 This is what road-tripping looks like in Spain: heading through ancient archways as we rumble through Cuenca in our ride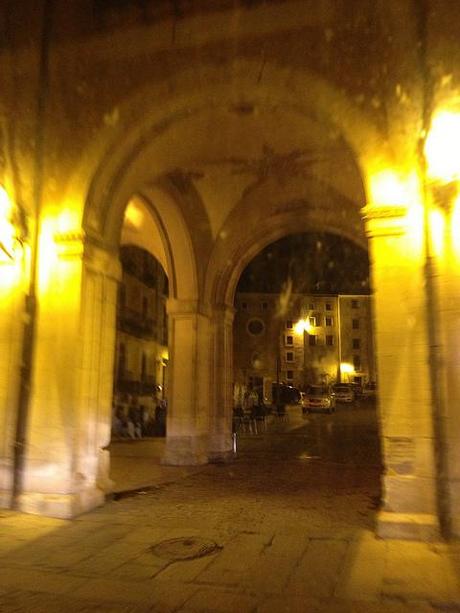 Steve climbing in Cuenca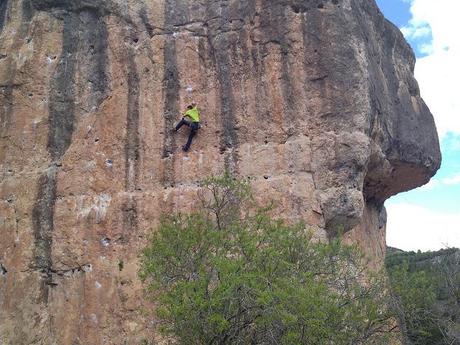 An evening stroll through the charming town of Cuenca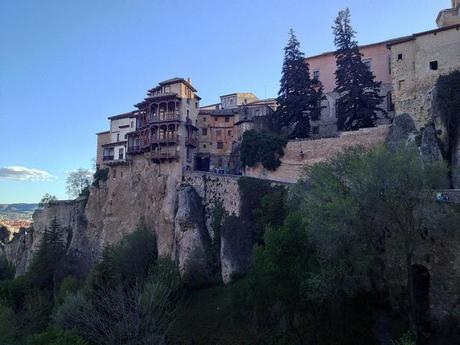 Love locks in Cuenca bridge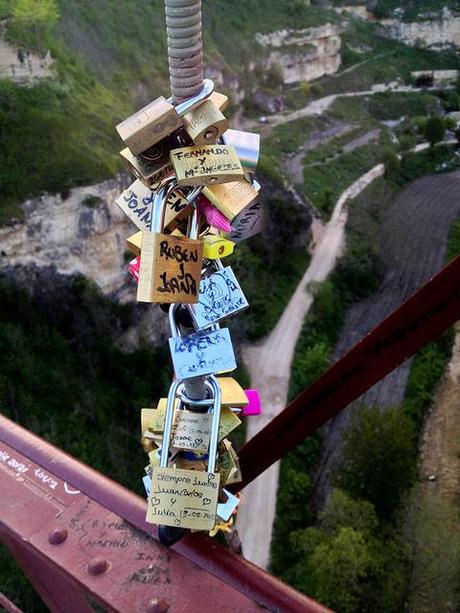 Juanma and Helena connected us with their friend Jose, who does van reforms. He's been busy overhauling the interior of our vintage ride this summer to bring her a little more into the modern era.
Jose has a think about how to fix the window…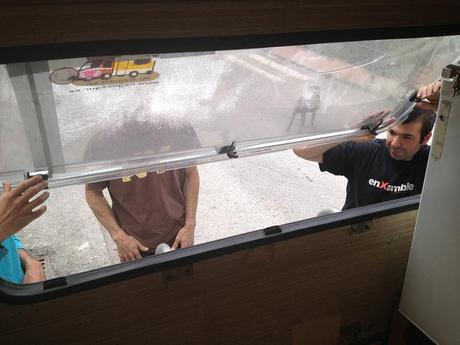 Though all those hours spent looking for property felt like a massive waste of time, in the end the experience turned out to be helpful. We gained some clarity on what we wanted and why. (Side note: looking for property is an excellent free Spanish lesson, ha!)
We head back to Spain at the end of September, and I'm psyched to get back on a rope and start projecting. And to hit the road in style.