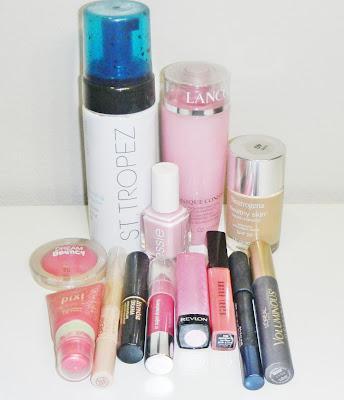 Sorry my blogs have been so far spaced apart, starting this week I'll be blogging a few times a week!
Spring is finally here so it's time to switch up my makeup from darker hues for winter to brighter spring colors!
Face and Skin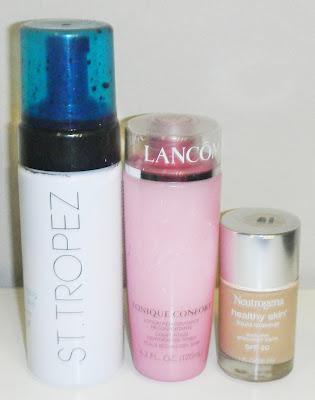 St. Tropez Tanning Mousse, Lancome Tonique Confort Toner, Neutrogena Healthy Skin Foundation

Maybelline Dream Lumi Highlighting Concealer

St. Tropez Tanning Mousse:
This is a Holy Grail 
product for me and trust me I have been through every self-tanner out there.  I love mousse formulas because they dry so quickly and look the most natural in my opinion.  This mousse will offer instant color but when you shower and the excess comes off it will fade so it can take a few nightly applications to build up a lasting tan.  It fades very well without looking patchy and the only con I have about this is it has a slight scent to it, but it isn't an unpleasant scent just a light fragrance.
Lancome Tonique Confort Comforting Rehydrating Toner:
This is a new find for me and my favorite part of my skincare routine.  It leaves my skin feeling so soft and hydrated 
like I just put on a moisturizer.  It feels very light on the skin and has a light fragrance that goes away as soon as you apply it.
Neutrogena Healthy Skin Foundation:
This is a long-standing favorite of mine for the spring and summer seasons.  This foundation offers beautiful coverage while feeling light on the skin.  It's very liquid-y but offers a beautiful dewy glow when you apply it.  My only problem with this is the packaging-no pump!
Maybelline Dream Lumi Highlighting Concealer:
This is a new product from Maybelline so I picked it up not sure just how light of coverage it would offer but I have to say I was pleasantly surprised 
with its coverage!  While it is light coverage it covers more than any light coverage concealer I've found.  I find I like to use this best underneath my foundation but it applies very well over foundation as well.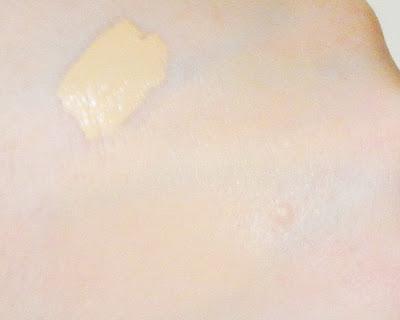 Above: Dream Lumi swatch, Below: Dream Lumi blended out- This shade looks a bit too dark for my skin because this what I use when I'm a little more tanned.

 Lips & Cheeks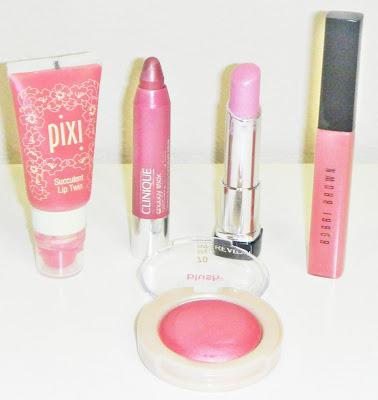 Lips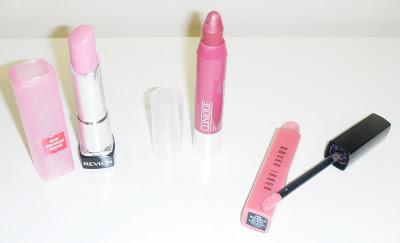 Revlon Lip Butter in Cotton Candy, Clinique Chubby Stick in 07 Super Strawberry, Bobbi Brown Lip Gloss in Pink Blossom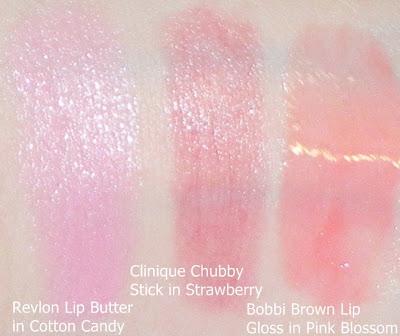 Cotton Candy Lip Butter:
This color is a pretty blue based baby pink color that has a slight iridescence to it.  All of the lip butters pack amazing pigmentation and I love to layer the Bobbi Brown gloss on top of this to warm up the color for a subtle every day look.
Super Strawberry Chubby Stick:
I am officially in love with chubby sticks!  I'm dying to get my hands on a few more colors!  This is a gorgeous natural strawberry color that I have been wearing just about everyday since I got it!  It has very build-able color and feels like a balm on my lips.  The wear time is decent- not too long lasting- but I love applying it so much that I don't mind that one bit.
Pink Blossom Gloss:
This has become a new stand by gloss for me.  It's a beautiful pinky-coral color looks great on my lips alone--especially when I'm tan!  Also, it works great to warm up other colors like the cotton candy lip butter.
Cheeks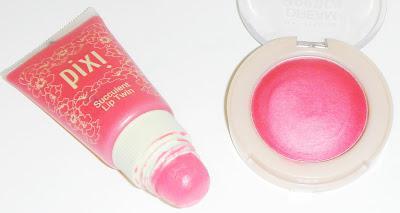 Pixie Lip Twin in Coral Camellia, Maybelline Dream Bouncy Blush in Hot Tamale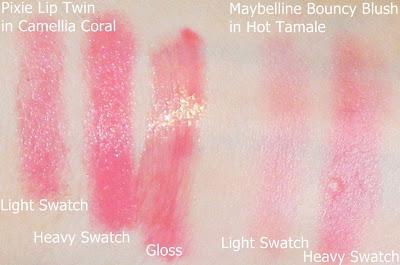 Pixie Lip Twin in Coral Camellia:
  The Pixie Lip Twins are really great two-in-one products; you can use the solid color on your cheeks for a beautiful flush of color and on your lips (though I recommend applying very lightly) and the gloss on your lips.  Coral Camellia (Sorry I got the name wrong in the picture!) looks really lovely on the skin and adds a nice amount of warmth to the lips.
Maybelline Blush in Hot Tamale:
This is what I have been wearing everyday!  In the pan it looks a bit scary because it looks so bright tomoato red!  But the Dream Bouncy Blush is a very sheer line of blushes so it gives just the prettiest flush of deep red to the cheeks that actually looks very natural.  This color is so easy to apply and doesn't come off nearly as bright as it looks in the pan!  The color is very build-able and has a decent lasting time for how sheer it is. It lasts anywhere from 3-6 hours depending on much you build up the color.
Eyes

Top to Bottom: NARS Shadow Pencil in Dark Rite, L'Oreal Voluminous Original Mascara, Lancome Hypnose Drama Mascara-Sample Size

 NARS Soft-Touch Shadow Pencil in Dark Rite: 
I've already feautred this pencil in my NARS haul but love it so much I've decided to put in this post too!  It's great to use as an everyday liner that looks natural while playing up the eyes more than a black or brown would.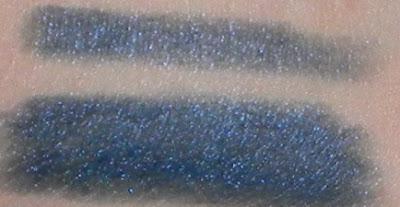 Natural light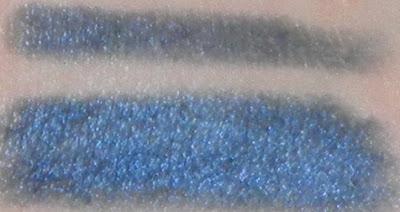 With flash
L'Oreal Voluminous Mascara:
This has become my every day mascara.  It's a great mascara for lots of lashes that don't look too overdone.  My only complaint is the stopper, it's awful!  It creates a lot of excess to come out on the brush so sometimes my lashes get a little clumpy and I need to brush through them with a lash comb.  But if you don't mind using a lash comb afterwards then I'd definitely recommend this!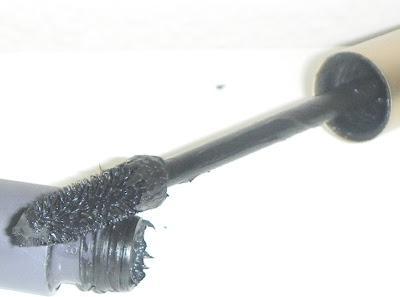 L'Oreal Voluminous Mascara

Lancome Hypnose Drama Mascara: 
This is one of the best mascaras I've ever tried!  It offers amazing length and volume while still separating the lashes.  It's just amazing!

 NOTD: Essie's Pink-A-Boo
(This is the polish from the first picture of this post but I decided just to make a NOTD out of it.)
This color is from Essie's new Spring line and is just about impossible to photograph!  It's kind of like the Revlon Lip Butter Cotton Candy in a nail polish form.  It's a light pink color that's a little warmer than a baby pink color with small hints of a purple-y-blue-esque base showing through and has a light shimmer to it.  I am absolutely obsessed with this color!  It's one of those colors that when I have it on I can't stop staring at my nails-- I just love it, this is definitely going to be my go to color for Spring! :)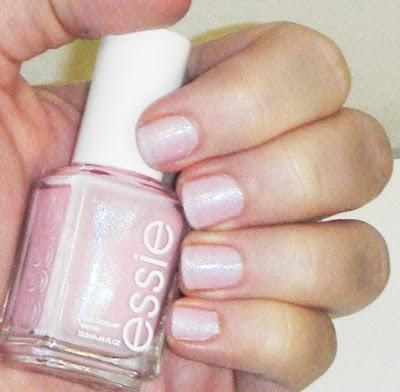 I know it's not the best quality picture but it's the closest I could get to the true color of the polish, it's still a shade or two warmer in person but you can see the shimmer and iridescence of the polish.

I'll have an additional post on Spring nail polish coming up!