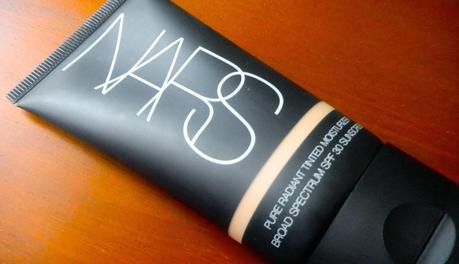 I remember seeing reviews and raves over this product a while back, and to be honest I didn't really buy into it.  A tinted moisturizer is a tinted moisturizer and they all give the same light(er) coverage, right? 
Wrong. This one is in a league all its own…



I had a sample of this and decided to give it a go.  The sample shade was a bit warm for me but I was already hooked.  I went out and picked up a lighter shade, Finland, and it has been my go to base every day since.

The color, like most NARS shades, was a bit yellow but once buffed into the skin it matched perfectly. A light yet build-able product, this tinted moisturizer put everything else to shame..it's just what I've been looking for in terms of complexion, the perfect "no-makeup" makeup base.

It has enough coverage to keep those pesky imperfections your little secret, yet doesn't look like anything on.  It leaves a flawless, natural finish that looks like the best version of your skin.  And it's lasting power is no joke, this guy stays put all day (and that's without a primer).

So, what say you?  Already a fan or still thinking of giving it a go?