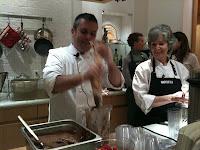 Chef Camillo Sabella preparing the mousse
A couple of years ago a friend, who knew I was a vegan, and asked me to try some new baked goods, designed for vegans, by a chef friend of hers.  Enter Camillo Sabella and his fabulous vegan desserts!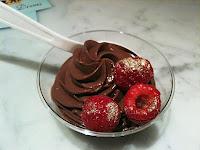 So beautiful!
Camillo has been working in professional kitchens since he was 12 years old, and his talent proves such a history. A graduate of the New York Restaurant School (now a part of the Art Institutes), he has worked in such renowned restaurants as Café de la Gare, The Plaza Hotel, and Fashion Café. Until recently, he served as the executive chef of Vegan Divas b
akery in New York.

Though not a vegan himself, Camillo has come to love the healthy, natural emphasis of the vegan cuisine and lifestyle. He takes a special pride in helping everyday people learn to eat better without losing any of the taste or joy of food. After all, as Chef Camillo is fond of saying, "food is love."  Of course, I am a big fan!  I love his donuts (about which I blogged way back when) and a variety of other desserts, but this recipe is next on my hit list ~ and I'm sure a hit is what it will be!
VEGAN CHOCOLATE MOUSSE 
Recipe courtesy Camillo Sabella 
Yield: 12-15 servings 
Vegan/Kosher/Gluten-Free
---
Ingredients:
Mori-Nu Silken Extra Firm Tofu* (5 packages)
Chocolate chips, non-dairy/vegan (4 cups)
Canola oil (1/4 cup)
Vanilla extract, pure (3 tbsp.)
Sucanat (2 cups)
Kosher salt (1/2 tsp. plus 1/4 tsp.)
Natures Flavors Organic Butterscotch Syrup**, vegan/Kosher/gluten-free (1/8 tsp.) 
---
* Important! Must be Mori-Nu Silken Extra Firm
** Optional, but heavenly!
---
Directions: 
Place tofu, sucanat, vanilla extract, salt and butterscotch syrup in a large food-processor. Process for about 7 minutes until all ingredients are fully incorporated.
Place chocolate chips and canola oil in a saucepan and melt slowly, stirring constantly with a wooden spoon so the chocolate doesn't burn and get bitter. Or, use a double-boiler.
Once the chocolate is melted, smooth and silky, add to food-processor containing tofu mixture and process for about 5 minutes, scraping down sides during processing.
Empty mixture into a large bowl and place in refrigerator for 4-5 hours.
To serve, use pastry bag to pipe mixture into individual glasses or bowls. Or, use an ice cream or cookie scoop.
Top with fresh raspberries, strawberries, or cocoa nibs. For special occasions, top with edible gold leaf.