A look at all things MUA...

My favorite MUA products! 
I spend quite a lot of time writing about makeup and cosmetics but it occurred to me the other day that I don't actually know much about the brands that I use. So, I've decided to introduce a little regular feature called Spotlight On.... where I choose a brand to do a little bit of research on and learn more about.
The first brand that I have chosen to have a look at is MUA cosmetics. Although I was a little slow to jump on the MUA bandwagon they have become a firm favorite of mine. Who doesn't love amazing quality lipstick for just £1?! That's not to say that I just love MUA for their lipstick, that would be far too shallow, I love them for their blush, eyeliner and eye shadow too! 
Now I've scowered the Internet looking for information about MUA but there isn't too much readily available online. I though of emailing them to ask for more information but then I figured I'd let the products do all speaking for them, because let's face it, if a brand doesn't have great products no one would be interested in them anyway! 
So here are my top reasons to love MUA cosmetics:
1.Their make up starts at just £1Don't be fooled by the £1 price tag, their makeup is also great quality too. The £1 range includes lipsticks, eyeshadows, eye dust and even busher. You can basically buy a whole new makeup bag for under £10! 
2. Free shipping over £25To be honest, I've never spent £25 in one order because everything is so cheap but their standard shipping is very reasonable £2.95. I've found the delivery to be super quick and reliable and they use Royal Mail, so if I miss the delivery I can just collect it from the sorting office.
3. The don't test on animalsNow I'm by no means any kind of animal rights activist but I do think testing cosmetics on animals is cruel and unnecessary. Cosmetics aren't drugs that are going to save someones life, so where is the need to test them on animals? The MUA website clearly states that neither their products or their ingredients are tested on animals. Well done MUA!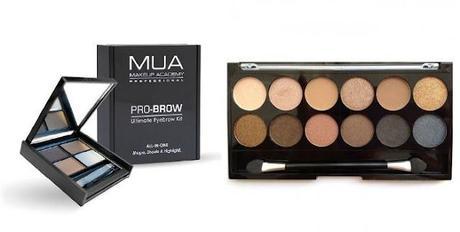 MUA wishlist Images taken from the MUA website
I have a few MUA products that I use regularly and have spotted some that I am hoping to try in the future.My favorite products at the moment are:
1. MUA LipsticsSeriously they are a quid and they are AMAZING! I bought my first one a few weeks ago in shade 14 and have worn it every day since! I can't wait to go and stock up on a few more shades, oh and to replace shade 14 with a few spares. 
2. MUA Mosaic BlushAgain, this another product that I haven't stopped banging on about on this blog. It is just so pretty, easy to wear and great for every day. I've just hit the pan on mine so I think I'll be trying out a few of their £1 blushers  next.
3. MUA EyelinerAnother product that is super cheap yet super effective. It isn't the longest wearing liquid liner but it is easy to apply and wear, just don't expect it to last through a 12 hour day as it does flake off a little.
MUA are a brand that are always bringing out more products and I haven't had a chance to test many of their newer products just yet but there are a few I am looking forward to trying in the future. These include:
1.MUA Brow KitI don't leave the house without filling in my brows and I'm currently using a kit that retails at over £20, so the fact that this one is £3.50 is amazing value. As soon as my current brow kit has run out I'll be buying this one! 
2.Undressed Palette*Shock horror* I am yet to purchase the Undressed Palette. I'm not actually a massive fan of eye shadow but I think this palette looks lovely. All the shades look very flattering and usable, I also suspect it will last me ages so I will invest in it at some point! 
As much as I love MUA, no brand is perfect! If I had one bone to pick with MUA it would be that my local Superdrug is just not well stocked enough and the MUA stand is often  ransacked to the point where there is nothing left on the shelves. I think that this a testament to the brand's popularity but it is quite annoying when you fancy a browse. I guess it is a good job that their delivery service is so good! 
Do you love MUA cosmetics as much as I do? Who are your favorite brands?
Follow me on: Twitter - Hello Cotton - Blog Lovin'