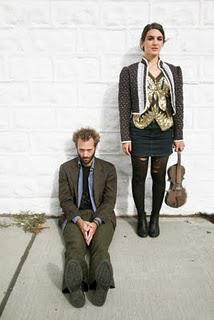 (Above) Alicia Jo Rabins alongside her
husband-slash-bandmate, Aaron Hartman.
If you don't think "indie fiddle-folk melodies" (
HEEB Magazine
) are your thing, that's only because you haven't heard
Half You Half Me
, the newest album from
Girls in Trouble
.
Headed by the multi-talented Alicia Jo Rabins (we're talking about a woman who's been a classically trained violinist since the age of
three
),
Girls in Trouble
is a unique band that utilizes multiple instruments - from the accordion, to the upright bass, to Jo Rabins' luscious "Regina Spektor-ish" voice - to delve into the often dark and twisted world of the Hebrew Bible.
As Jo Rabins pointed out in a recent interview, the material she draws from is "totally bloody and R-rated, not at all like children's Bible stories," so you can imagine what fun is to be had in her latest album (storm demons, jealous sisters, and knife accidents, oh my!).
As a feminist, my favorite aspect of
Half You Half Me
is the way it pays homage to the unsung women of the Bible: those whose stories have been tossed aside, forgotten, or otherwise dilapidated by the sands of time. Through lyrics that might as well be printed in poetry books,
Girls in Trouble
gives these women a powerful, thought-provoking voice.
Now, let's pretend you're like me and don't really "mesh" with religion. You might be worried that
Half You Half Me
is just another musical ploy to get you into church on Sunday (or should I say, into a
synagogue
), but believe me when I say that you don't have to be Jewish, Christian, Buddhist, or any other religion to find something special hidden amongst the ethereal violin solos and poignant lyrics of these songs.
Jo Rabins and friends have created multiple musical worlds - some of which are light and sweet-sounding as in the album's first track "We Are Androgynous" (
listen to it here!
), and some of which are more sinister - but each world is strangely dreamy, progressive, and unlike anything you've ever heard.
Alicia Jo Rabins was nice enough to answer a few of my burning questions, so check out what she had to say about her band's unique name, musical style, and whether or not she was a feminist!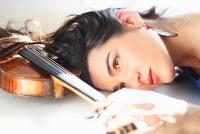 Me:
How did you come up with the band name "Girls in Trouble"? What does it mean?
Jo Rabins: Girls in Trouble is a concept project: both a song cycle, and the band who plays the songs live. All the songs are about obscure stories of women from the Torah/Hebrew Bible . . . it's amazing material to draw from because these stories are totally bloody and R-rated, not at all like children's Bible stories! Hence the name. I wanted the drama of the stories to come through a little in the name of the project.
Me: Can you explain a bit about your music style and the themes/messages that permeate your songs?
JR: I'm pretty eclectic in my musical tastes and I've been influenced by so many kinds of music - classical chamber music, which I grew up playing; old-time fiddle music and folk ballads; klezmer (Eastern European Jewish music); indie rock; and punk. So you can hear those influences throughout the album, I think. As for themes or messages, I'm interested in emotional truths, which are complicated.
Me: When you're writing lyrics for a new song, what's running through your head? What inspires you?
JR: I think about emotional resonance, about beauty, about layers of reality, about dreams, about the way the words feel in my mouth. I'm inspired by the things that are hard to look at, by the parts of our lives we would rather ignore, and the power contained in those moments.
Me: Would you consider yourself a feminist or an advocate for women's rights? If so, what shaped those beliefs?
JR: Yes, I would. I am the oldest of three sisters and my parents always raised us to believe girls could do anything boys could do. So I was fortunate to take that for granted at an early age, and I've never doubted it for a minute.
Me: What's the single greatest piece of advice you've ever heard? In other words, if you could go back in time and talk to your 16-year-old self, what would you tell her?
JR: I would say, find the things that make you happy, and do them. And be quick to laugh at yourself. And drink more water. And you will find someone who loves you just the way you are, not the perfect version of yourself, so don't worry about perfection.
Me: Finally, do you have tour dates or anything else you'd like to promote?
JR: Yes! Girls in Trouble is just back from two weeks in California, and we're heading out all month on a release tour for our new album, Half You Half Me (Jdub Records). We're going down south and then up north, so come see us play, and bring your friends! Most of the shows we're playing are all-ages.
Tour Dates:
5/4 Columbia, MD @ Oakland Mills Interfaith Center
5/5 Raleigh, NC @ The Pinkhook
5/7 Atlanta, GA @ Highland Ballroom
5/8 Carrboro, NC @ Leo Gaev Metalworks
5/11 Baltimore, MD @ The Windup Space
5/15 Philadelphia, PA @ National Museum of American Jewish History
5/19 New York, NY @ Joe's Pub (Release Show)
5/20 Hudson, NY @ Spotty Dog
5/25 Northampton, MA @ Thorne's Market
5/29 Becket, MA: Girls in Trouble @ Dream Away Lodge
You can also check out Girls in Trouble on Myspace, Facebook, or Twitter!