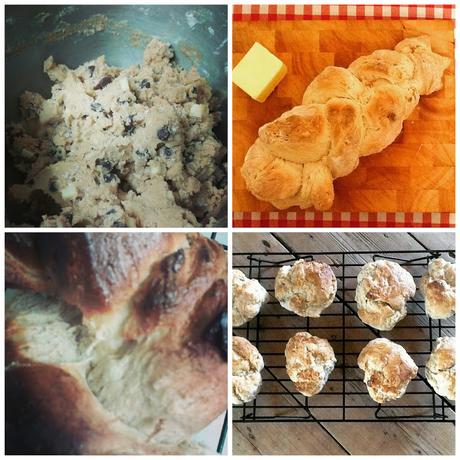 I wrote earlier in the week about World Baking Day which is taking place today and, having replenished my store cupboard yesterday, today I spent several happy hours baking.
I began this morning by making one not but two bread doughs....firstly, a super-simple basic white bread from Tana Ramsay's "Kitchen Secrets" book, I've made this many times & it's never yet gone wrong.secondly, I attempted Rye Challah loaf which I had spotted on Pinterest.Breadmaking is an acquired skill, I think....my finished loaf looked good but the taste was probably an 8/10. Definitely one that I will try again though.
Next up, were banana bread scones - super easy to make & really delicious.I ended up making three batches & took them to a friend's house for tea.Who doesn't like someone who arrives with baked goods?!
I then needed a quick cookie recipe to take to a friend's garden/tea event so I made my favorite salted peanut butter chocolate chip shortbread.These are some of the tastiest cookies ever, my children love them.
We were on a bit of a roll by this point, so my daughter decided to make a classic Victoria Sponge decorated with cream & strawberries for her best friend's birthday tomorrow.I am always keen to encourage both my children to get involved with cooking & baking and so, even though the kitchen was rather a mess at this point, we got on with our fourth baking project of the day.
We've had such a lot of fun today in the kitchen & everyone got involved.Nothing tastes as good as waking up to the smell of fresh bread or rolls baking and baking for someone or sharing tea & cake with someone is the simplest but very best of pleasures.
This post was sponsored by Stork, all words & content are my own.