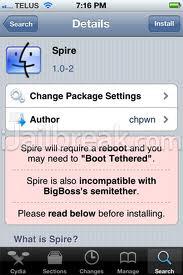 You wanted Siri on your device. I mean, Siri is really cool. But only the iPhone 4S can have it. A new Cydia package allows you to download Siri itself on non-iPhone 4S devices. Spire is legal and very stable, so need to worry about that. The downside is, 
Apple still requires authorization to use Siri, so information from an iPhone 4S is still required. To insert this information, Spire allows you to enter your own proxy server address. The whole process is pretty complicated, so if you don't know what you are doing, don't try. To download Spire, follow the tutorial below. 
Requirements 
Jailbroken device TETHERED (not Semi-tethered) running iOS 5.0 or 5.0.1

Access to an iPhone 4S (for 4 important keys--

speechID, assistantID, x-ace-host, validationdata) More info is here

Siri proxy server
1. Open Cydia
2. Search Spire
3. Install Spire
4. Your device will reboot. Connect your device to Redsnow and boot tethered. 
5. Open Settings
Before you move on, make sure you enable Siri by going to General-Siri 
6. Click on the Spire tab.
7. Enter in your proxy host. A proxy host to enter is https://siri.cd-team.org . This is the hard part. There has not been many proxy hosts yet. 
Need help?, see what chwpn, the developer says 
here
Found this post helpful? Don't forget to share it->