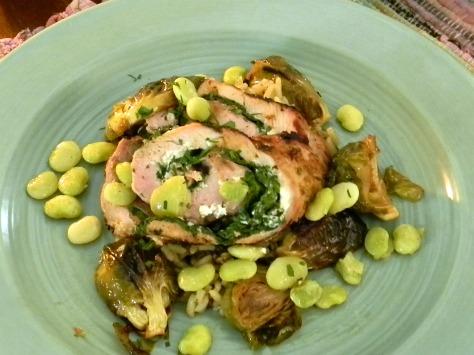 I bought a pork tenderloin at the butcher's last week with the purpose of grilling when a good weather day could come our way. After Hurricane Andrea, there appeared to be a break with a few dry days so I put that tenderloin and pulled pork quesadillas on the menu.
Yes, a very porky weekend but all very lean, promise.
The Nudge spent the afternoon bleaching, scrubbing and hosing down any plastic that could be used this summer, from our table to all the coolers and then all the garden tools.
Yay, we're 'Open for Business'. Laissez les bons temps rouler!
I wanted a reward for our hard work with a substantial meal so, no hot dogs tonight. Plus, we had been saving a very nice bottle of Maryland wine just for a time like this.
I opened the fridge to see what I had to stuff into the tenderloin and a bag of leftover spinach from this dish, prosciutto (which I always have) and a half eaten log of goat cheese......BINGO
I simply butterflied and pounded the tenderloin and then turned it 90°, rolled it back up with the three layers of filling and hog tied it. Ready, set, grill!
I basted it with a mixture of honey and vinegar so that a nice crust would form and set it over about 25 coals (so it would burn at around 350°), turning it every six minutes for a total of 24 minutes until it read 145° on an instant read thermometer.
While it rested I reheated leftover Lima beans for The Nudge and roasted Brussels sprouts for moi.
I think I ate the whole bowl because I finished the Sunday paper in the bathroom this morning.....hehehe
My father always called any green vegetable.....Green Power. Smart man back then, he knew.
If butterflying a tenderloin daunts you, practice on a chicken breast and if you mess up just make fingers with it. This video was one of the better ones I found.
Pork tenderloin is like chicken, anything goes, it's all good. They make great platforms for using left over vegetables, cheeses and fruits. A great presentation and an inexpensive dinner party meal.
Stuffed Pork Tenderloin
Cook time: 25 minutes
Prep time: 15 minutes
Serves: 4
* 1 1/2 pound pork tenderloin, butterflied & pounded to 1/2"
* 4 handfuls of spinach leaves
* 4 slices prosciutto
* 2 ounces goat cheese
* salt & pepper
* 1/4 cup each honey + balsamic vinegar
1. Salt and pepper tenderloin. Crumble the goat cheese evenly over meat, leaving at least 1" of clean edge.
2. Next layer is the spinach, then an even layer of prosciutto to hold everything in place.
3. Roll as tightly as you can and tie with string, starting at the middle and working outward. Trim string.
4. Mix honey & vinegar and brush over every surface of the rolled meat.
5. Once the coals are grey, place the meat over the coals, lower the cover and grill for 6 minutes on each side. If using a stove top grill, lightly cover with foil.
6. Remove from heat when thermometer registers 145°. Tent with foil and rest for 5-10 minutes.
7. Slice into 1/2" pieces and serve.