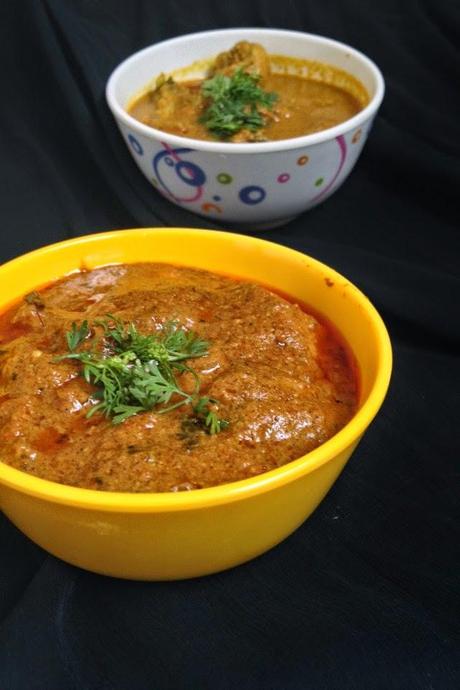 Raining is an enjoyable thing but here it becomes so cold and it rains everyday for every hour.The break it takes just 5 minutes only.We did not need any cool air inside the house,its chilling like November December.V told this will be upto October.OMG!how can i going to resist that much and we did not able to see sun for past three days.Feeling like we are in a hill station.In between the power loss too and we definitely need heater for the room.Searching for that:)While typing,my hands are shivering and the climate is entirely new to me and i will sure go with this one.common lets fight:).This recipe can perfectly goes with biryani and all type of rotis.
For this chill climate,how about a spicy butter chicken recipe with the ingredients from south and this is totally a twist with both the cuisines(north and south).We ate butter chicken from a nearby restaurant and this tastes fantastic and i had this butter chicken recipe for the first time here other than in TN.Making chicken in our own style really tastes delicious other than trying from other cuisines.My first chicken recipe i made it with creamy cashew paste and i love the texture which i made  that time.After that i followed my Mom's recipe only, so experimenting with chicken stops there and now here i got a chance when V bought chicken last week.I divided the pieces into two halves,one for chettinad stew and another one for this spicy version of chicken.The marinade makes the chicken more juicy even after it get cooked and adding remaining marinade makes the recipe a fuller creamy look.I added almonds instead of cashews here.Blanch the almonds and then make a paste from it.Lets move on making the recipe,,,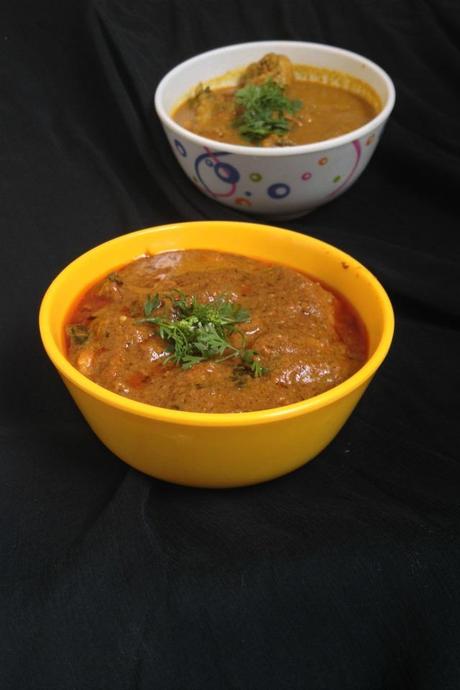 Murgh Makhani(2 Persons)
Ingredients for making
Chicken pieces(boneless ) - 1 cup
Onion - 1 finely chopped
Tomato - 1 finely chopped
Ginger - 1/4 inch finely chopped
Almond paste - 3 teaspoons
Red chilli powder - 1/4 teaspoon
Coriander powder -1/2 teaspoon
Salt - to taste
Butter - 2 tablespoons
Corinader leaves- for garnishing
For marinade
Thick yogurt - 1 cup
Cumin powder -1/2 teaspoon
Red chilli powder - 1 teaspoon
Pepper powder -1/2 teaspoon
Ginger garlic paste - 1 teaspoon
turmeric powder - 1/2 teaspoon
Salt - to taste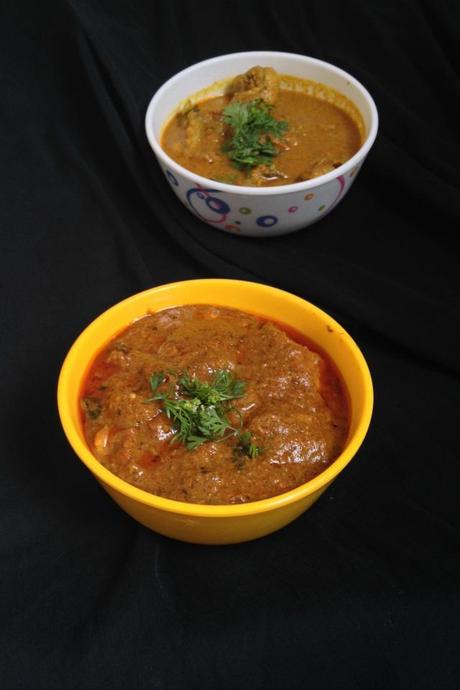 How to make
Take a large bowl and add thick yogurt along with all the spice powders with required salt.Mix evenly.
Clean the chicken pieces and drain excess water there.Add the chicken pieces to the marinade and massage the pieces and make sure they are evenly coated.
Set the marinade for about 20 minutes before making your recipe.After 20 minutes,heat the wok with 2 tablespoons of butter and add the following for tempering
Cloves - 3
Cinnamon stick - 1/4 inch
Fennel seeds - 1/4 teaspoon
cardamom pods - 2 

Then add finely chopped onions followed by finely chopped ginger and cook until it gets soft.Now add tomatoes and cook well.
After that add red chilli powder and coriander powder and make sure the flame is on medium.Continue the whole process in medium flame.
Now add the marinated chicken pieces only into the wok.Keep the marinade and we will add it finally.Give a toss.
Now add or sprinkle little water to the chicken and cook until it get soft.Now add little water to the extra leftover marinade and add it to the chicken.Cook until the water evaporates.

Now add almond  paste and cook it in low flame by covering it with a lid.
Switch off the flame after the oil get splits up.
Add chopped coriander leaves for garishing.
Serve this with biryani,rotis and parathas.
Cooking tips
Use kashmiri red chilli powder as you did not want any spicyness in the recipe.
Using pepper powder gives you more spiciness and it is good for health too.
Serve this desired main course and also with raita.