Think red hot chillies, think spicy hot fumes oozing out of your ears, and think Andhra food. Yes, we are talking about India's hottest cuisine. Andhra food is not only about idly, dosa, and vada etc. but also spicy non-veg delicacies.
Here are a few dishes from Andhra that you cannot miss:
11.
Hyderabadi Chicken Biryani:
 Nothing can beat the flavors of Hyderabadi Chicken Biryani. The name itself is enough for non-veg lovers to go crazy! It is famous for its aroma, taste, and tender meat.
2
22. 

  
Bamboo Chicken:
Bamboo chicken is also known as 'Bongulo Chicken'. It is a traditional tribal cuisine of Aruku Valley, a hill station in Vizag. Bongulo Chicken is a chicken curry prepared by stuffing the bamboo shoot with chicken and then on charcoal. It is an oil-free and nutritionally rich dish.
33.

   
Andhra Fish Fry:
Fish Fry is also known as 'Chepala Vepudu' is a very simple and a must try recipe made of spices. Seafood is mostly consumed in the coastal part of Andhra and is prepared with a good amount of spice and flavor.
Hey foodies! Can't wait to try all these recipes? Then visit the most famous Andhra Style Restaurant in Bangalore – Nandhana Restaurants™ where you can get super tasty Andhra food.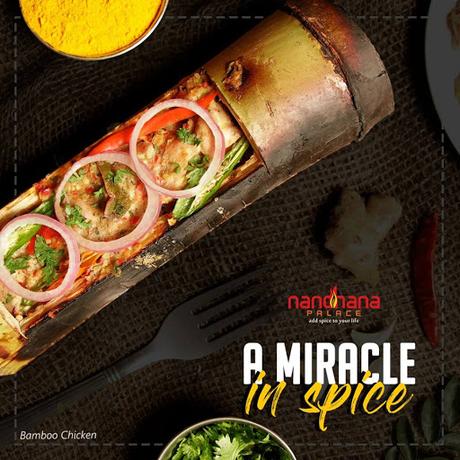 Nandhana Palace is the well-known Andhra Restaurant in Bangalorespreading the taste of Andhra food throughout the city since generations. This is a great place to visit with all of your friends and family to enjoy various varieties of both veg and non-veg food. We serve the best homemade type Andhra food for our customers. Serving not only tasty but also quality food to the customers is our motto.
Our Nandhana Restaurant is located in 14 major places of Bangalore namely New BEL road, Sahakar Nagar, Bannerghatta road, Nagarbhavi, Rajajinagar, Kammanahalli, Marathahalli, Domlur, JP Nagar, Indiranagar, KR Puram, RR Nagar, Koramangala and Kanakapura road.

Key Success Factors

of Nandhana Restaurant:

Ø

Customer Satisfaction is our only motto

Ø

Has Expert Chefs

Ø

Excellent

Ambience

Ø

Serves tasty Andhra food

Ø

Provides both Vegetarian and Non-Vegetarian food

Ø

Home delivery services

Ø

You can order food online

Ø

Extraordinary staff

Ø

Affordable prices

Enjoy your favorite Andhra food with your friends and family at our Andhra Restaurant. Visit Nandhana Restaurants today to taste the spicy food cooked perfectly by our expert chefs. You can also Order Andhra Food Online

!