The origin behind these delightful variations of food exists in the state and has continued since the Nawab's ruling period. 
Andhra cuisine
includes vegetarian and non-vegetarian dishes that are both should make an unforgettable moment in your life. Hyderabadi's popular dishes include tasty Biryanis, delicious rice and some tangy chutneys and pickles.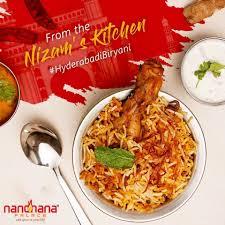 This state that gave Biryani a whole new meaning and taste is renowned for providing some of the most palatable Biryani and Pulao recipes. 

The initial mouthwatering Andhra Chicken Biryani uses a rich combination of aromatic herbs and spices to give a succulent taste to the thick, thin rice grains. Tossed vegetables are combined with chicken to create the taste for which it is best known.

If there is a restaurant, which underlines the essence of Andhra cuisine in Bangalore, it's the Nandhana Restaurants. The traditional food of Nandhana Restaurant is mainly based on rice.

The famous Nandhana Restaurant cuisine is one of the most crowded Andhra restaurants in Bangalore to provides the Andhra special veg and non-veg meals, Sholay kebab, Nandhana keema balls. Amaravathi Chicken fry, Bamboo chicken and Mutton Nalli Roast are the signature dishes of Nandhana Restaurant.

It's difficult to find anyone who doesn't fall in love with south Indian foods, which famous south Indian recipes mixed with our veins.
Nellore Chicken Biryani
Biryani is a popular evergreen that can be enjoyed at any time of the year. It is spicy, celestial and one of the most loved delights, not just in India but around the globe. Nellore biryani favorite dish for many south Indians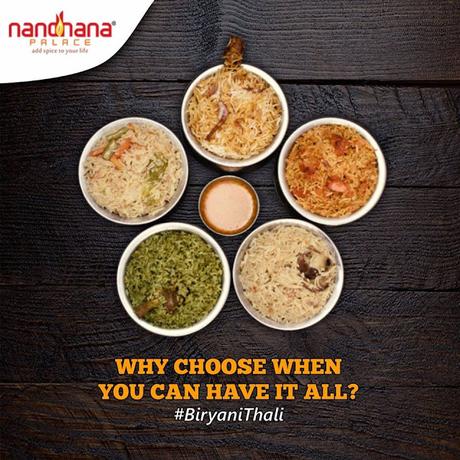 Hyderabadi Chicken Biryani
The classic Hyderabadi biryani cooks together raw meat and rice until the flavours of the meat fill in the rice. Roasted onions, mint, and fresh coriander add flavour, but Hyderabadi biryani is characterized by its strong spices and sourness.

Our restaurant is the best dining to serve the aromatic and different types of Andhra cuisines in Bangalore. If you are in Bangalore then can't wait to visit this legendary restaurants to cherish the movement with your loved ones.