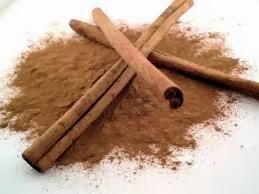 Cinnamon is such a great spice for winter, as it really seems to warm the body.  It's great in a non-dairy cappuccino, and even better mixed with sugar for a sweet, vegan French toast, as an oatmeal topper, or mixed into a crumble for cake or pie.  Cinnamon tea, though harder to find and usually blended with apple, is also nice and tasty!
Some studies claim cinnamon has health benefits too, like lowering cholesterol and blood sugar, but there seem to be an equal amount of research saying that isn't true.  The good news is, it can't hurt unless you try to ingest too much of it at once – then it can literally burn!
You can also find cinnamon in Body Fuel Nutritionals' new Cocoa Crunch – it's great as a high-energy snack or as a cereal to get your day started.  Look into how you can buy some at the soon-to-be-live www.bodyfuelnutritionals.com. As a quick treat, you can pick up Stacey's Naked Cinnamon Chips or make your own at home.  Slice up some pita, regular or whole wheat, and sprinkle with your own cinnamon-sugar mixture.  Bake until crispy and the sugar is caramelized and snack away!  Just think - as a bonus your house will smell fabulous too!