When it comes to holiday meals, tradition usually outshines creativity.  We've been trained like dogs to expect certain things on certain days -  turkey on Thanksgiving, honey-baked ham (or more turkey) on Christmas, and chocolate on Valentine's Day.  Anything else is typically frowned upon, or at the very least is received with wary looks and raised eyebrows.  Because nobody cares if you're a Michelin-starred chef – you don't mess with tradition.
But I did.  And I got away with it, too.  Probably because I belong to a family that loves to eat but hates to cook. One that prefers to surrender the kitchen's sovereignty to my mad musings rather than peeling carrots or chopping onions themselves.  I suppose they might enjoy eating my food, too.
So I turned Christmas on its head this year and did away with the turkey, the ham, and the mashed potatoes.  I rubbed a fat skirt steak with my favorite Latin spices and threw it on the grill, totally oblivious to the freezing weather and the fact that it would be another five months until the mass media deemed outdoor grilling socially "appropriate."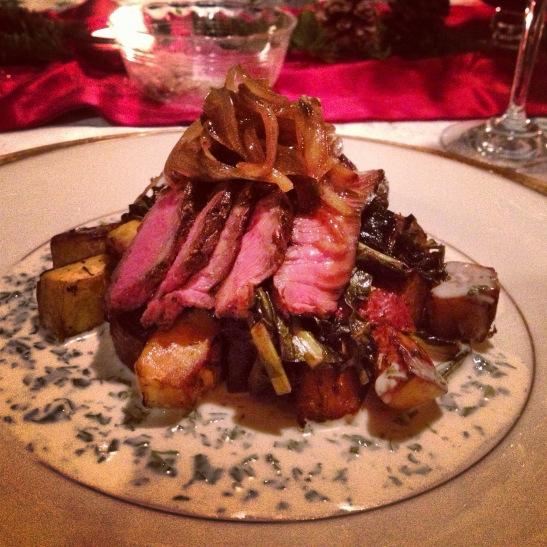 I wasn't totally out of line, however.  I paired the steak with a variety of seasonal roasted vegetables like brussels sprouts, sweet potatoes, purple potatoes, and acorn squash.  Then I topped it with caramelized onions and a rich cilantro cream sauce.  It might not have been any healthier than typical holiday fare, but it was a hell of a lot more interesting.  And if empty plates are any measurement of a well-crafted meal I think I would call it an overall success.  Nobody asked for the cranberry sauce, either.
Spice Rubbed Skirt Steak
1 pound skirt steak
juice of 1 lime
1 tsp ancho chili powder
1 tsp habanero chili powder
1 tsp cumin
1 tsp smoked paprika
1/2 tsp sea salt
Directions: Preheat grill to medium-high.  Rub the steak with the lime juice and spices.  Grill for 1-3 minutes on each side, until medium rare.  Rest for 5 minutes then slice into thin strips.
Roasted Winter Vegetables
2 red or golden potatoes
2 purple potatoes
2 sweet potatoes
1 medium butternut squash
1/2 pound brussels sprouts
1/4 cup extra-virgin olive oil
1/4 cup balsamic vinegar
2 tbsp sugar
1/2 tsp sea salt
Directions:  Preheat oven to 350.  Wash and chop the potatoes into 1-inch pieces.  Peel the squash and chop into 1-inch pieces.  Place in a large bowl and add remaining ingredients.  Toss to coat.  Bake for 30-45 minutes, removing occasionally to stir.
Balsamic Caramelized Onions
1 large onion
2 tbsp butter
2 tbsp balsamic vinegar
1/4 cup sugar
1/2 tsp salt
Directions: Heat a skillet to medium-high.  Add all ingredients except sugar and cook until onion is tender.  Add sugar and cook for another 2-3 minutes, until caramelized.
Cilantro Cream Sauce
1 cup heavy cream
1/4 cup sherry
1/2 cup chopped cilantro
2 tbsp sugar
salt and pepper
Directions: Combine all ingredients in a saucepan.  Bring to a boil, then reduce heat and simmer for 5 minutes.  Add salt and pepper, to taste.