Spring has sprung here in Santa Barbara, thanks to daylight savings time and 70 degree weather.  Which means it's time to crawl out of the wine-braising, root vegetable-peeling funk you've been hiding behind for the past 6 months and start eating fresh food again.  Do you even remember what a salad tastes like?
Today's recipe combines a handful of vegetables straight from the farmers market to create a light and vibrant salad that reflects the joy and energy of spring.  Pickled apples and onions add sweetness and crunch to the slightly bitter, earthy flavors of baby arugula.  Tossed with a honey-lemon vinaigrette and topped with goat cheese and toasted almonds, and you've got yourself the perfect starter to a casual lunch or dinner party with friends.  We recommend serving it with a crisp, bone-dry California Sauvignon Blanc or Pinot Gris.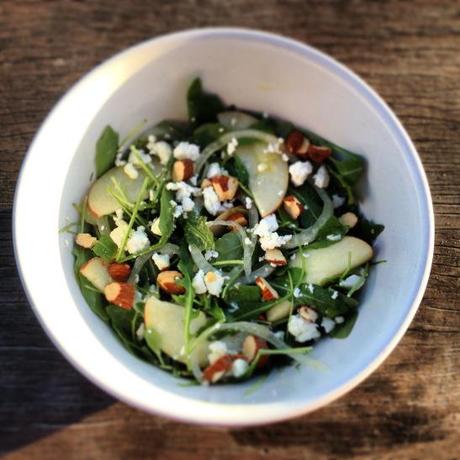 Ingredients:
1 apple, thinly sliced
1 onion, thinly sliced
1 cup rice vinegar
1 cup water
2 tbsp sugar
1/2 tsp salt
4 cups baby arugula
1/4 cup goat cheese, crumbled
1/4 cup toasted almonds, crushed
2 tbsp extra-virgin olive oil
2 tbsp rice vinegar
1 tbsp lemon juice
1 tbsp honey
Directions: Combine the first 6 ingredients (apple through salt) in a large mason jar. Shake and refrigerate for at least 2 hours before serving. Whisk the last four ingredients (olive oil through honey) together in a large bowl, then toss with arugula. Add pickled apples and onions, goat cheese, and toasted almonds. Sprinkle with salt and pepper, to taste.