Something cool happened last week.  The folks at WordPress declared my pig as a blanket post worthy of  public attention, and subsequently pinned it on their Freshly Pressed homepage.  What followed was a lovely barrage of emails, comments, likes, and new followers that apparently enjoyed reading the article as much as I enjoyed writing it.  But I can't take all the credit here – the post was about bacon, and everyone loves bacon.  Writing about bacon is like writing about chocolate.  Too easy.
So I've decided to challenge myself this week with a recipe that features every bacon-lovers worst nightmare:  Tofu.  The infamously mushy, infinitely mysterious form of vegetarian protein that haunts every self-respecting carnivore in his sleep.  With little flavor and fat of its own, tofu is the antithesis of bacon.  But it's also a vegan's best friend – and I've never been one to discriminate.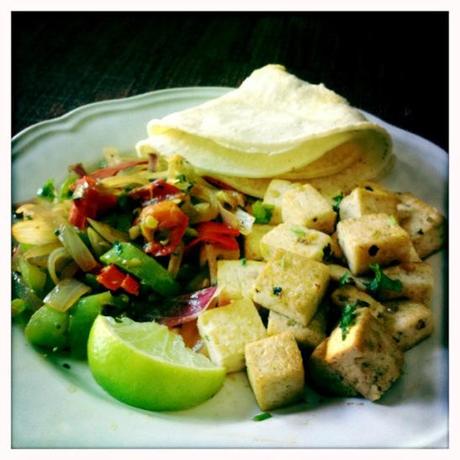 Today's recipe is a vegetarian-friendly version of Mexican fajitas, substituting tofu for the chicken or beef or whatever poor animal you thought you were going to be eating for dinner.  A lively marinade of chili powder, olive oil, and lime juice adds a sweet and spicy kick to this otherwise boring chunk of soy protein and renders it surprisingly edible – maybe even delicious.
If you're still not sold on the whole vegetarian thing, that's okay.  I've got another idea for you.  Try substituting the olive oil for chopped bacon or reserved bacon fat and follow the same recipe.  The porous, soggy nature of the tofu will soak up whatever flavors you cook it with – including pig fat.  So it's no longer vegetarian but now you've got more bacon for you buck.  Did I just blow your mind?  You're welcome.
Ingredients
1 block organic tofu [firm or extra firm]
4 tbsp olive oil
4 cloves garlic, diced
1 tsp dark chili powder [ancho or chipotle]
1 tsp cumin
1 lime, halved
1 red bell pepper, sliced thinly
1 green bell pepper, sliced thinly
1 onion, sliced thinly
1 jalapeño or serrano chili, diced
salt and pepper, to taste
tortillas
lime wedges
roasted tomatillo salsa
Directions: Cut the tofu into small chunks (1/2 inch). Heat a large pan to medium-high and add half of the olive oil and garlic. Saute garlic for 1 minute then add the tofu and half of the chili powder, cumin, and lime juice. Cook for 5-10 minutes, stirring occasionally, then remove from heat. In the same pan, add the remaining olive oil and garlic. Add vegetables and remaining spices and lime juice and cook for 5 minutes, until tender. Serve with tortillas, tomatillo salsa, and a generous squeeze of lime.