When you were a child, did you ever drink flat ginger ale to settle a queasy stomach?  You may have thought it was the slight carbonation of the soda which would quell that terrible feeling, but it is the ginger itself ~ an herb that can be ingested in many forms, not only for medicinal purposes but also to create some delicious dishes (gingerbread cookies among them!)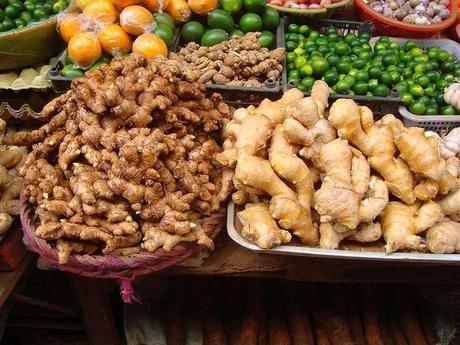 Ginger, most commonly seen these days pickled in Japanese restaurants, is a fragrant, spicy ingredient.  You can find it as a root, minced, in herbal tea or in a dried powder.  It can also be crystallized as a flavorful candied accent to a dessert or atop sautéed green beans (and a little piece under your tongue is a tastier way to alleviate stomach bugs than the soda.)  Did you know the reason it accompanies sushi and sashimi is because it helps to breakdown the fat in the fish?  Just another fun fact. 
As ginger comes in so many forms, it is quite versatile, but it is an acquired taste.  You can easily add it to any stir-fry or sprinkle some into a zucchini bread or coffee cake batter for a little kick.  You can also slice up some firm tofu, or prep lean chicken breast or salmon, whisk together some maple syrup with lite soy sauce or tamari and minced ginger, use that mixture as a marinade for an hour or two, pour the juices over the protein in the baking pan and then bake until done.  The Ginger People Company even sells Ginger Chews candy now, but you really need to love this taste to handle those spicy treats.  Oh…and one more fun fact: ginger's an aphrodisiac.  Just in case you wondered about any of its other benefits!