On a cold December Saturday, a dedicated crowd of comedy and music loving friends and supporters packed Cafe' Dekcuf in downtown Ottawa for a show that was largely unlike any other show I have ever played.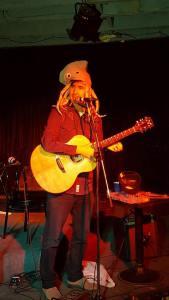 Spencer Rice performs at Cafe' Dekcuf. Photo by Leigh Bursey
Kicking things off with my beloved Project Mantra, I did my best to set the stage and steal the show, as we blasted our way through a thirty minute set that included new songs like "Scream for Me," older originals like "Wake Up To A Morning Maker", "Trippin' On The Stars In The Sky" and "Darkest Before The Dawn," and even a couple of cover songs like Lorde's "Royals" and The Violent Femmes' "Blister In The Sun." Covered in Irish whisky sweat and black eyeliner, I left the stage feeling proud of what we brought to the table. Energy, excitement, and a passion for what we do.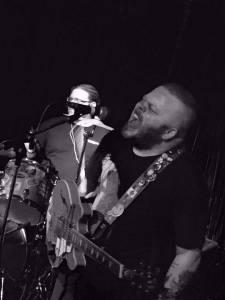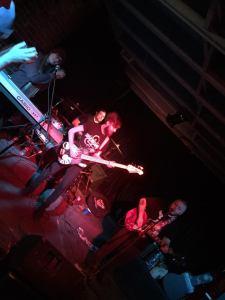 Project Mantra performs at Cafe' Dekcuf. Photos by Jennifer Harvey
The Diamond Mine Agency offers a constant barrage of talented artists and giant rock tours all across the region. Owner and operator Brandon Bird is a true professor, bringing larger and lesser known acts of all music styles to venues all over Ottawa, Kingston, and beyond. Every second week, Brandon and his team bring another unique, outstanding, or recognizable name to the area, and offer us a fair value exchange for our money. And that's exactly why Project Mantra wanted to leave the crowd wanting more.
We wanted to make the audience clap and cheer, and we wanted to leave it all on the line. And that's just what we did, and we weren't the only ones.
Local Sound Check Entertainment favourite Danielle Allard also brought her soothing sounds and confident disposition to the stage, as did a number of others. Matter of fact, there was no shortage of hungry acts looking for someone to notice. We all wanted to be the performers that the audience left the quaint Ottawa venue talking about that night, but how could we be when Spencer Rice was our featured headliner?
If you're unfamiliar with Spencer Rice, maybe you might know him better as Spenny of the hit network prank comedy television show Kenny Vs. Spenny. And while Spenny has never been known to the masses as a talented singer and songwriter, had you been there on Saturday night, he might have surprised you.
Sure, he was coarse and somewhat unrefined. Maybe his performance was even a little mellow and odd. But that really isn't what sold the event as one you had to see. It was his humour.
At some points donning a squid hat, and downing shots of hard liquor, Spenny told jokes about acid hits and Donald Trump, while singing songs about free Internet pornography. If you were coming looking for refined and powerful, you were at the wrong showcase, but if you were looking for something memorable, Spencer definitely gave you something eccentric to chew on.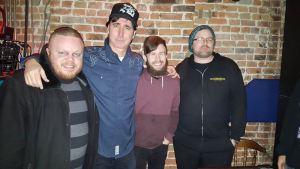 Members of Project Mantra pose with Spencer Rice for a post-performance photo. Picture by Brandon Bird
Be sure to check out his upcoming performance dates online, and keep following Project Mantra too. I guess we did impress on Saturday night, because I am proud to announce that we will be performing as part of the upcoming Madchild hip hop concert, presented by the Diamond Mine Agency at the Bourbon Room in Ottawa on January 12th. Check www.projectmantra.ca for more details.