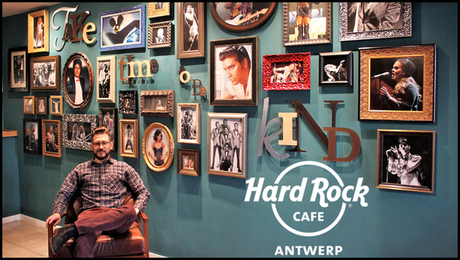 Leandro Targon
Where are you from and what brings you to Antwerp?
I'm from Mendoza, in western Argentina. My city is the proud wine capital of South America and lays at the feet of the Andes.
I first came to Belgium in June 2016 for holidays and during that trip met my spouse, who is from the Netherlands. Ten months later we were married in Antwerp!
Tell us about your job.
I'm the Sales & Marketing Manager at Hard Rock Cafe Antwerp. I simply love my job: I'm responsible for the 100% of the sales figures of our cafe (groups, leisure, corporate and individuals) and contracting with business partners. Being the spokesman and image of the brand in the Flemish region, I plan, budget and execute the yearly event calendar. I'm also responsible for the marketing communication of our cafe.
You are right at the heart of an area very popular with tourists. What's that like and how is the tourism business faring in Antwerp at the moment?
We are indeed at the core of everything that happens in Antwerp. Tourism figures are growing considerably every year in the city, but at the moment there is a big focus on the business traveler, weekdays and weekend visitors from neighbouring areas who come mainly for shopping, people interested in the cultural aspects of the city, and plenty of foodies. Like many in the hospitality industry, we're aiming for major growth in the long-stay leisure traveler segment, mainly the international one. That is certainly one big area of opportunity compared to other destinations in the Benelux, and hopefully with the increasing number of cruise ships calling at the port of Antwerp, there will be much better results.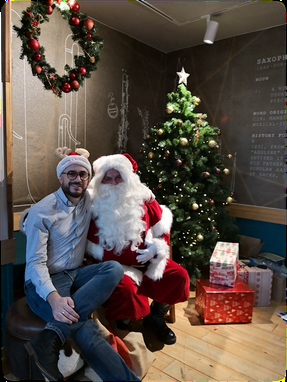 Leandro with Santa at the kids' Christmas Breakfast
Can a place like Hard Rock be something that is both for locals and tourists, or do you think of them as being very separate demographics?
Combining the two of them is the exact key for what an authentically genuine Hard Rock Cafe must be. We are a worldwide well-known reference for tourists, and as such our cafes are an attraction. But the strength of our business resides in the local community; both Flemish and expats. Therefore our events and initiatives welcome everybody, without putting our guests into boxes. Hard Rock Cafe Antwerp is our house, and that's how we like to be seen.
What are you looking forward to in 2019?
2019 is a year full of ambitions for us as a cafe. In March we will have been open for two years and that is something we're immensely happy about. My personal and professional goal is to enhance our fans' experience, and create genuine experiences that rock. Undoubtedly it will be an amazing year!
What do you like best about living in Antwerp, and what do you miss about your home country?
I totally love that Antwerp is such an international city; a hub for business, its also offers plenty of heritage and culture, as well as amazing shops and museums to visit, and I love the fact that is so beautiful. I've lived in many countries before coming here, and been out of Argentina for more than seven years… I wouldn't say I really  "miss" something about my country because I receive visits from friends and family at least once a month, and I go to Argentina twice a year. The nature over there is breathtaking, so I try to reconnect with that every time I'm back.
Hard Rock Cafe is on Groenplaats, Antwerp.
Find Leandro on Linked In
Find & Follow Nessascityblog

ON: Facebook (Events in Antwerp: in conjunction with London Calling)
Twitter & Pinterest & Instagram