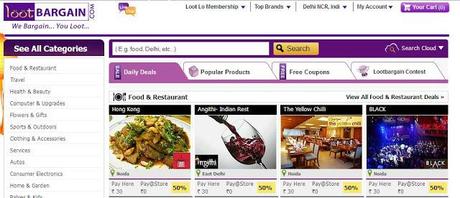 When I think of shopping, the first thing that strikes my mind is discount. More, a little more and a little more... we never get enough of discounts. Why? because of savings we  make out of it. So, here is your chance to make more saving at Lootbargain.com. Lootbargain.com is giving 25% discount to SSU readers and I think that is so kind of them.
About Lootbargain.com
-
"Lootbargain.com endeavors to provide the cheapest and the best deals to you every day through a web-based marketplace. While checking out great daily deals in India, you can also search for coupon codes under your favorite categories for 1000s of stores across India. To multiply your shopping delight, we also connect you with the finest merchants who regularly come up with a number of hot deals.
With 18 categories and sections like 'Merchant' and 'Today's Deals', Lootbargain.com enhances the scope of your purchasing power by providing you an opportunity to buy excellent products and services at the click of a button. You can now buy any product of your choice, sitting in the comfort of your own home. So whether you are looking for everyday consumer goods, are interested in decorating your home, just looking for the most happening restaurants in town or have to book an air ticket, Lootbargain is there to help you for all that you need at the most competitive rates. Our dedicated staff-members use their talent to hit upon amazing offerings under each category by browsing through the Internet. Our employees work hard to find you top bargains online to let you enjoy high-quality merchandise and services at the lowest cost."
Special Diwali Offer on Deals!
Special Diwali Offer on Deals!Get flat 25% off on all DEALS VOUCHER at Lootbargain.com
.
 Coupon Code
: SS&ULBN25NOV
Exclusion:
This coupon code is valid only for All Deals section at Lootbargain.com.  
Validity:
10th November, 2012.
So, please use this voucher code if you are planning to visit any restaurant with your partner, planning to gift someone with salon services or any other useful services that
Lootbargain.com
has to render.
Special Thanks to Lootbargain.com and their PR firm.
=====================================================
Disclaimer:
For any queries, PR information, website review, store visit and events - please mail me at
[email protected]
. Read about Shopping, Style and Us and to know more, please read my
Disclosure Policy
.
Jiya (Shoppingaholic)