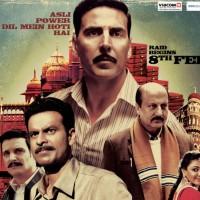 Movie: Special 26
Director: Neeraj Pandey
Cast: Askhay Kumar, Manoj Bajpai, Anupam Kher, Jimmy Shergill and Kajal Aggarwal
Rating: ****
A month in 2013 and Bollywood finally gets its first finest film! Yes, we are talking about this week's much-awaited film, Special Chabbis. It won't be an exaggeration to say that Special Chabbis is indeed special. After all it's not always that you get out of a theatre contended by what you witness on screen.
Director Neeraj Sharma's second Bollywood presentation, after critically acclaimed 'A Wednesday', Special Chabbis is yet another testimony of his calibre and skill at direction. After witnessing creativity getting butchered at the hands of mindless money spinners, rehashed remakes and soulless sequels, this is one of those films, where 'script is the king'.
Special Chabbis is a 'con' movie and just like a con film is ought to be, Special Chabbis is smart, taut and crisp. It is like a well-planned and executed mind-game laid out for audiences to play and enjoy. The cat-mouse chase between a gritty cop and a suave thief rides on brain rather than brawn. The film is inspired by the real life-heist of March 19, 1987 where an unknown common man in guise of a CBI officer robbed Tribhovandas Bhimji Jewellers with his gang of 26 fake Income Tax officers.
With Ajay Singh (Akshay Kumar) and PK Sharma (Anupam) at the helm of things, Special Chabbis opens in Delhi. Our conmen posing as Income Tax officials raid a politico's home robbing him off crores and jewels, in front of a police officer, played by Jimmy Shergill… This fiery foursome played by Akshay, Anupam, Rajesh Sharma and Kishore Kadam have been successfully making the rich and corrupt business men and politicians poor by sweeping off their black money for many years. And it would have been a half century of successful stories for them if real CBI, had not woken up and a diligent officer Waseem Khan (Manoj Bajpayee) had not decided to knock them off. So, just when they are planning for the biggest heist of their life, tables turn. What happens next? We'll only spoil it if we say more.
A long film usually tests your patience and Special Chabbis is a long film resting close to 2 hours and 30 minutes. But you don't really feel this length thanks to a smooth narrative and a fine screenplay. And the final twist leaves you stunned. Minus, Akshay's romantic track with his neighbour played by Kajal Aggarwal, which is forced,the film has no unnecessary padding.
Pandey's Special Chabbis works at many levels. One of them being giving you realistic settings. To establish Delhi of 1987, the director has worked really hard at visual as well as psychological levels. Be it showing – Anupam Kher fathering around 9 kids blaming it on unavailability of TV, Akshay buying imported goods from Mumbai or significance of a 100 Rupee note in 1987. In our quest to find flaws in the setting, we could spota Peter England hoarding in Cannaught Place in an otherwise perfect scene marked with Only Vimal hoardings, old car Maruti 800s, Padminis, cordless phones and dial phones.
Humour-wise, there are no direct punches but subtle situational humour that leaves you grinning. For instance, a CBI officer dressed up as Lord Shiva and the interview scene. Bajpayee's request of Chullu Bhar Paani is both comic & a slap on the face of Indian administration that fails till date in front of the corrupt.
Talk about performances and Special Chabbis can boast to be a winner. Manoj Bajpaye impresses you with his power-packed performance. The role is tailor-made for him. Akshay Kumar of Hera Pheri and OMG is back from his mindless movie spree. Without trying very hard he plays the part of calm, composed and cunning no non-sense man with élan. Anupam Kher is a veteran of the trade. As a happy-go-lucky but nervous at times old man he is perfect. Out of the supporting cast, it is Rajesh Sharma's character that doesn't get complete justice. Kajal Agarwal doesn't have much to deliver as Akshay's love interest and she doesn't do much good to the story either. In fact, chemistry between the two heroes in the bar scene is more fiery than Kajal-Akshay's chemistry.
So, my verdict on the movie is that it's a must-watch!