I usually only paint my nails once a week, I feel like if I was to paint them more than that it wouldn't be good for my nails,  but if you saw my last NOTW post with the Snow Me White and Rock Star Pink glitter added you know that I was not happy with the results at all. So I made an exception and took it off today and tried something different.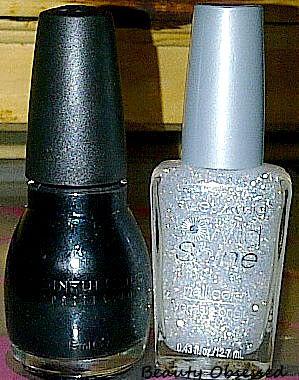 Sinful Colors
has become one of my favorite nail polish brands, I didn't realize how many different colors they have and I find there brush very easy to use unlike some other ones and so far I have had no problem with the formula.
I used
Whats Your Name,
 an awesome blueish, purple & green glitter that's packed in a black shiny base. I love the formula in this polish, it's extremely pigmented and shiny. Of course the pictures I took don't do justice. I should have waited till tomorrow so I could have taken them in the sunlight but I didn't want to wait lol. Here's what this color looks like using 2 coats,  if you look carefully you can see the tiny blue and purple particles.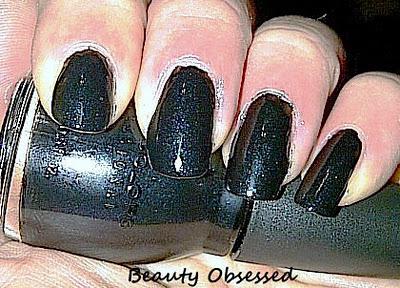 2 COATS OF WHATS YOUR NAME by SINFUL COLORS
Then I layered it with
Wet n Wild, Wild Shine in Hallucinate,
a crystal clear glitter polish. Again, the pictures don't really do justice. Maybe I will take more pics tomorrow when the sun is out to give you the real effect. But for now, hopefully you get the idea :)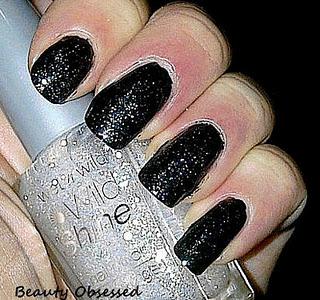 WHATS YOUR NAME LAYERED WITH 1 COAT OF WILD SHINE'S WET N WILD HALLUCINATE
Isn't glitter awesome?!? Sorry, I guess I'm just getting used to the whole layering technique and how much one coat of glitter can enhance almost any color. This Wet n Wild crystal clear glitter made this mani 10x better, in my eyes anyway. I only used one coat of the glitter, maybe I could have used 2 but I didn't think it was necessary.  In the picture it just looks like a dark black polish with a top coat of glitter but really, the base looks like a very dark greenish/black color with an opaque finish and a pretty  shiny glitter. It's a definite upgrade from my last manicure a few days ago lol. 
What nail trends or colors are you into right now?
Click the links below :)
Follow my blog via GFC
Follow me on Twitter