I use Pinterest a lot and I really like it but as everything online, it quickly became the target of spammers and I have the impression it gets worse lastly.
I observed two kind of spammers:
Of course it remains a lot of good ol' marketers like Denisha Hommerson who are easy to spot, you can figure out their websites by just checking a few pins and you know you'd better ignore them as they post only their own stuff.
If you have a doubt, just check: only 5 boards on 58 are her own and only 217 pins on 5400 are on her own boards, all the other ones are on community boards.
But there is also a "new kind" of spammers with a mostly – if not totally – automated process. I have to admit that they're very clever and it gets harder to spot them. They actually look so legit – if you don't scratch a little – that they get real followers!
How to spot these then?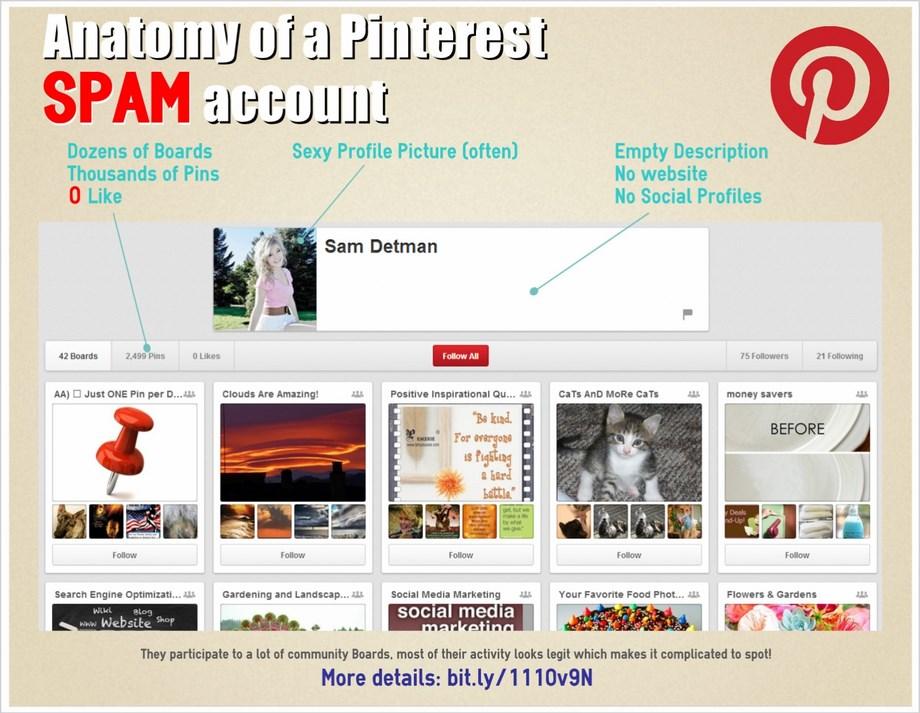 These accounts are mostly used for SEO purpose obviously, here are the main ways I found to spot them at a glance:
They have 0 like, it's very suspicious in itself as I don't think a human user would only pin/repin without using the other feature, it's possible but not likely to happen.
They have a lot of pins, generally 2000+, once again it's possible but with 0 like, it's a little strange.
They have a lot of boards, generally 40+, all the ones at the top are community ones.
They don't fill their bio or website, it looks empty.
They link mostly to Google Images or some Tumblr properties, the first one is really smart as it looks like it's from a "beginner" who pins directly from Google Images, it also improves the SEO indirectly: for the website and mainly for its images. The Tumblr blogs are often erased, I did not actually see one, it's the sign of a good moderation, congrats to Tumblr then.
Regarding these Tumblr blogs, they are based on the same URL model as the profiles (see below): random letters then numbers so they're also easy to spot once you know.
They often change of avatar, either with a picture of someone or something very impersonal.
There are other similarities between the accounts I've spotted, they're not suspicious by themselves but I share them anyway but may become altogether:
All have two parts in their names, generally to look like a real person but they also use nicknames. Their URL are composed of random letters and then numbers, here are some examples:

Brandon George (kuo719455)
Hotrod Burt (pute946811, erased, I wonder if this one is intentional)
Sam Detman (ochi846712)
… I don't link them as they get erased easily.

They often use sexy avatars & sexy pins.
They intensively take part to community boards.
They're not following too many people.
They post the same pin on many boards, mainly community ones. It's how I spotted them as it's irrelevant once in a while.
A spam account looks like that: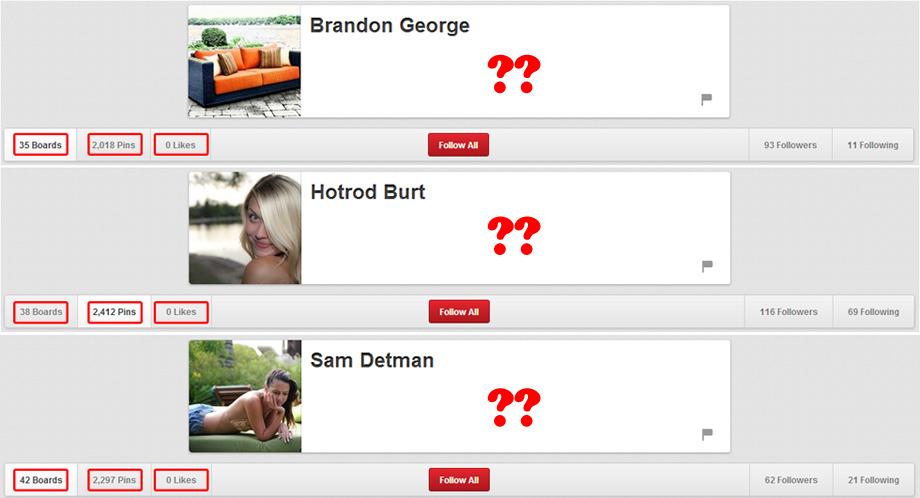 A pin looks like this one about shoulders stretching, it's posted in a community board dedicated to Natural Remedies so it makes sense. The link on the other hand is totally irrelevant and brings us to this item on Google Image. Images from this website are actually the target of a lot of pins from different accounts.
We know who is our spammer now, it's apparently a fishing* website officialtoms.com which openly copies Toms.com and probably makes sales using its notoriety!
* Not so sure phishing is the correct term here but it looks to be definitely a fraudulent use of Toms brand.
I've to say that Pinterest checks spam reports very fast and bad accounts deleted within 24 hours.
Spammers make things harder for the service to act, they generally use group boards to post irrelevant content & get links (for SEO). It's still spam in my opinion but it should be more the matter of the community managers than Pinterest itself.
I'm pretty sure other websites must use the same scheme even if I did not find any. As it's an automated system, be sure their techniques will change over time as it will adapt to continue to deceive as much Pinterest itself as us.
Share the infographic
<a href="http://bit.ly/111Ov9N" title="Anatomy of a Pinterest Spam account" target="_blank"><img src="http://blog.mathiasphilippe.com/wp-content/uploads/2013/04/anatomy-pinterest-spam-account-infographic.jpg" alt="Anatomy of a Pinterest Spam account" width="920" height="713" style="margin:0 auto;" /></a>