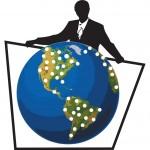 The global economy brought major changes in the last decades and one of these is that you can easily work with people from all over the world, distance does not matter any longer, mostly costs & results do.
You may then think to BPO to make your business more cost-efficient or reduce your working hours, letting you spend your time more effectively on actions with real added value.
Before you start, I invite you to read my two articles dedicated to this matter, the first one is about the pros & cons of outsourcing while the second one gives tips for you to take good decisions for your first BPO job.
Marie Forleo also shared her views about outsourcing, she explains when (& when not) BPO is a good idea:

This will definitely help you take a good start and good luck then for your next outsourced project.
Your turn now… Feel free to share your tips or experiences about BPO in the comments below.
Photo Credit: World Wide Business on Stock Free Images by Plinghoo.