One of the things I love most about New York is finding a hidden gem in the middle of complete chaos. Asanda Spa, which is located on Broadway in SoHo is exactly that: a huge, calming oasis amidst hundreds of commercial stores and excited tourists. It boasts a light, airy, and welcoming decor dimmed with subtle lighting for the relaxing experience that I needed. I was greeted with a bottle of champs and a friendly staff before kicking off a day of serious pampering (c/o.)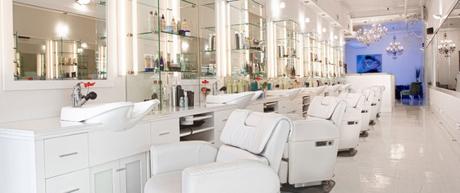 The facial was my favorite treatment of the day. A facial virgin, I was a both nervous and excited for this treatment. I'd heard both sides of the spectrum- those who love facials and absolute horror stories. I've also been prone to experience a stinging sensation if I use too many products at once- so I've always been hesitant.
After a brief consultation with Stephanie, we got the show on the road. She started by putting me in the mood- a brief foot massage followed by some much needed attention to my neck, shoulders, and décolletage. She analyzed my face under a bright light and magnifying glass to make sure she's using the proper products for my skin type: combination of dry/ sensitive with a slightly oily T-zone. She also asked if she could preform a light extraction on my nose and chin. "Bingo!" I thought. I'm always trying to clear those pores with Bioré stripes- products Stephanie doesn't exactly swear by.
Overall, the experience was extremely relaxing and soothing. No pain or discomfort- even during the extraction. I felt she really listened to my concerns and I'm excited to go back for more!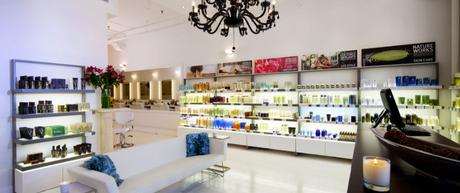 After that, I headed over to the massage therapy room to meet with Marco. He was my kind of masseuse- a little heavy handed with a lot of knowledge about how muscles work. He sent me home with a handout on posture that included some easy stretches to help alleviate lower back pain. I left feeling even more relaxed, slightly dizzy (or is that the champagne kicking in?) and ready for my next treatment. The fabulous Wilma started by painting a cooling mask on my shins before heading into a luxurious spa pedicure. She was amazing- talented for sure, but also funny AF. I would go back to her just for the conversation.
All in all- a day well spent!
Asanda Spa Lounge is located at 598 Broadway, New York, NY 10012. For bookings, call (212) 966-0219 or visit them online at AsandaSpa.com and use our PROMO CODE BCLB20 for 20% of blowouts, massages, facials and nail treatments.