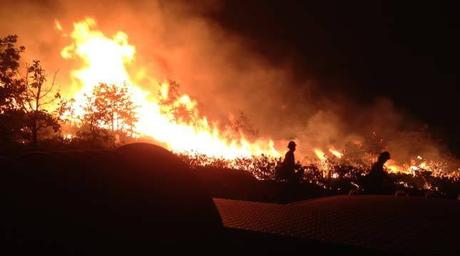 by Pat Dooris / KGW
Soldiers from Oregon's National Guard will join more than 1,300 people who have already gathered to fight the Douglas Complex of fires in the southwest part of the state.
One-hundred-twenty-five soldiers will monitor check points around the fire to keep the public out. Five helicopters will join the eight that are already working the complex.
Meanwhile, several hundred lightning strikes touched down in Central Oregon igniting at least 15 new wildfires.
The fires in southern Oregon are putting out an enormous amount of smoke, much of it kept at ground level during the morning by an inversion. The air quality is still far above the hazardous level in the nearby town of Glendale during the morning hours.
Workers from the nearby Swanson Group mills, the largest employer in town, were allowed to go home if the smoke became too much for them and several did.
People who don't have to go out in the morning don't.
Cassie Harris lives in a home in downtown Glendale. She's keeping her 5-month-old inside as much as possible.
"We don't really open the door much," she said.
She worries about the smoke and the fire up in the hills outside her home.
"Its really, really bad. We have the humidifier on inside and it's–it's getting pretty bad out here," she said.
Four-hundred homes were still under some sort of evacuation order or warning. Several blazes in the area are being fought by crews.
The closest to Glendale is called the Dad's Creek fire. It grew slowly overnight and now covers 25,396 acres.