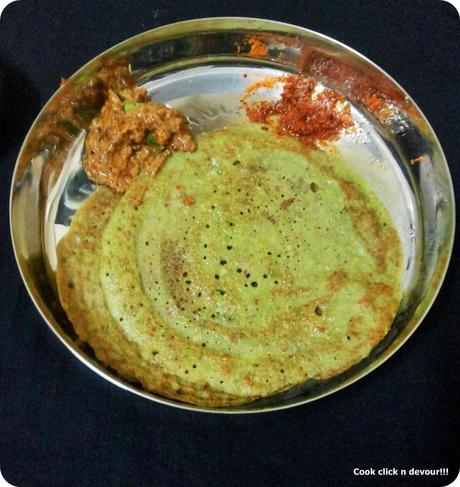 This week's SBT we are heading towards Andhra pradesh,that boasts of various dishes that are fiery hot and bursting flavors.Personally I love Andhra cuisine,I love the varieties of podi,pachadi(chutney),pickles and various vegetable preparations especially with generous addition of peanuts.Who will not love the array of pappu(lentils),ever famous Hyderabadi  biriyani or a the royal treat fit for kings.This week here I am blogging about a very famous breakfast combination-Pesarratu and ginger chutney.Lets move in :)
Pesarattu:
Pesarattu is an Indian crepe made with whole green gram(not the split yellow one) and rice.This is a very easy and fast one,which can be prepared in less time.This batter does not need over night fermentation.I have already blogged about pesarattu here.This time I just did a small alteration to the batter.Along with 1/2 raw rice,I also soaked 1/2 cup parboiled rice,which resulted in perfect dosai crispy at the edge and super soft in the center.You can make paper thin dosai with batter easily.Serve with ginger chutney and you will find yourself wanting more and more :)
Here is the recipe for pesarattu
Ginger chutney -Allam pachadi: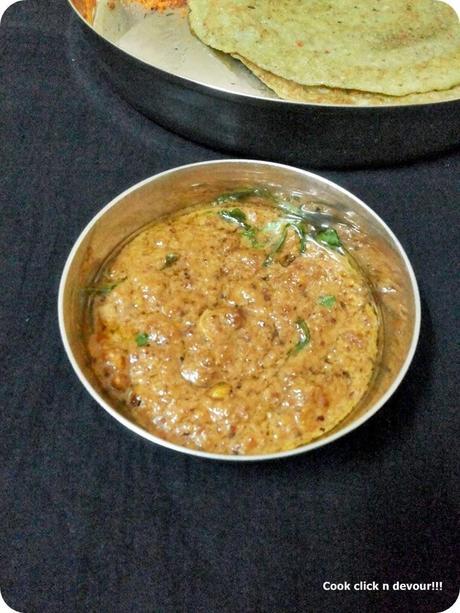 Though this is a combination platter,I can not stress enough o the taste,flavor and punch of this chutney.It was of those dishes,that I am extremely happy I tried it and completely satisfied with the taste and flavor of the finished product.This chutney goes very well not only with pesrattu also with any other dosai,idly and ot to forget how heavenly it tastes with curd rice :)
Ginger chutney recipe
Star ingredients:Ginger
Time:10 minutes
Serves:6
Ingredients:
1 tablespoon urad dal(black gram/ulutham paruppu)
2 tablespoon gram dhal/kadalai paruppu
2 green chillies
2 dried red chillies
1 1/2" ginger root peeled and chopped
1 small piece of tamarind
1/2 teaspoon grated jaggary
1/2 teaspoons mustard seeds
10-12 curry leaves
1/4 teaspoon asafoetida
Salt
Method:
1.Heat 2 tablespoons oil and roast all the ingredients from urad dal through ginger.Allow to cool.
2.Grind along with salt,tamarind and jaggary to a smooth paste with little water.
3.Do a tempering with mustard,asafoetida and curry leaves and add to the chutney.Mix well and serve.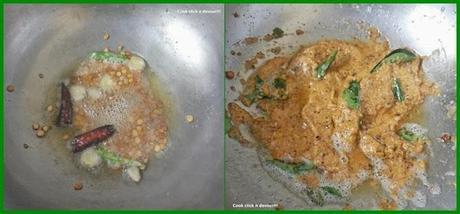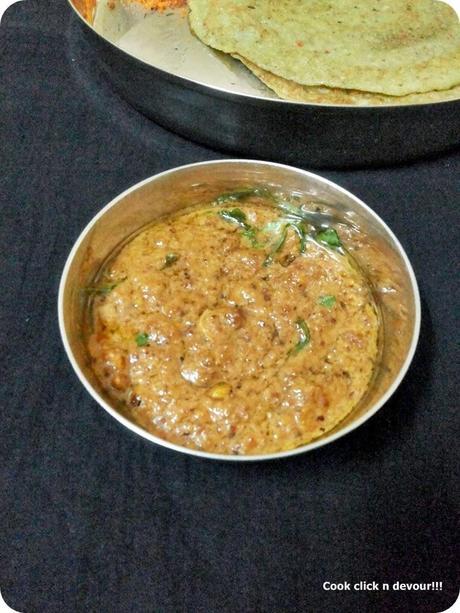 Notes:
1.You can mix this chutney with cooked rice for an abosolutely flavorful rice.
2.Increase/decrease ginger according to your preference.