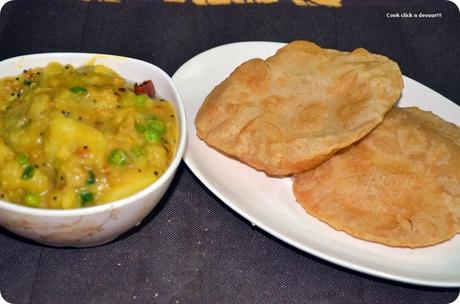 I have been thinking about this for quite sometime now.We all know the importance of breakfast,the first meal of the day and how full it needs to be.In south India one never runs short of a good breakfast.I am not talking about the restaurant stuff,but a typical south Indian home.Beginning right from humble idly,vadai,sambar idly,pongal,dosai(I can't even think about the varieties they offer here :) ) to poori etc,there are so many many varieties of breakfast one can choose from.I wanted to blog about the traditional south Indian breakfast recipes,along with their best paired side dish.I want to make this a weekly series,where in each week I shall feature a dish and blog about it along with recipe.If I have already posted the recipe here,I shall blog about it with updated pics.Hope you all will enjoy and of course do a big breakfast :)
Poori masal recipe
Star ingredients:Wheat flour and potatoes
Time:40 minutes
Serves:4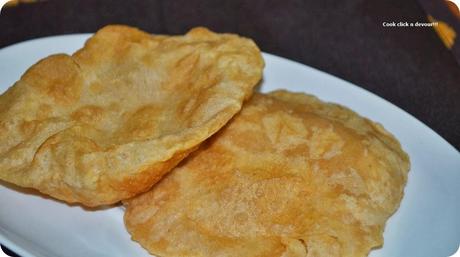 Poori-masal,This is a match made in heaven,where poori is a small unleavened deep fried flat bread made of wheat flour and masal is the term for spicy vibrant semi dry gravy made of potatoes.It is a typical breakfast any south Indian loves and it keeps you full for long time.I know poori is neither new dish nor every one needs a recipe,still I am blogging here for few beginners who requested this recipe and also because of the importance of poori here in south India.
Puri/poori
Ingredients:
1 1/2 cup whole wheat flour
2 teaspoons rava
1 teaspoon sugar
1 teaspoon ghee
Salt
Water
Oil for deep frying
Method:
1.Knead everything except oil to a pliable non sticky dough.The dough should be little bit tighter than we knead for chapathi.
2.It is not neccesary to rest the dough for puri,divide the dugh into 15 equal sized balls(small lemon size)
3.Roll into small circles thicker than chapathis.Spread the circles on a big plate for 5 minutes.
4.Heat oil for deep frying.Once the oil is hot,deep fry the rolled puris one by one till golden on both sides.Serve hot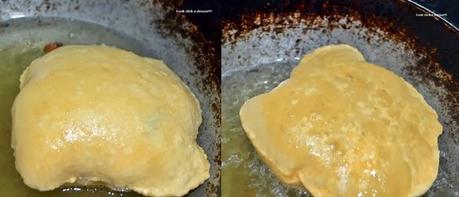 Potato masala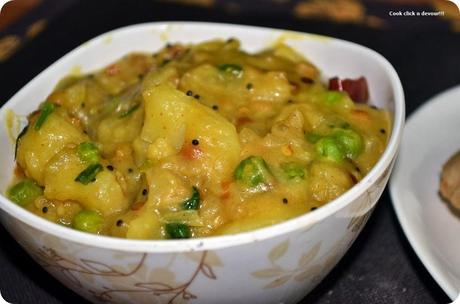 Ingrdients:
4 large potatoes boiled
1/2 cup fresh green peas
2 onions sliced thin
2 dried red chillies/green chillies
1/4 teaspoon scrapped fresh ginger
1/4 teaspoon turmeric powder
1/2 teaspoon chilli powder
1 tablespoon gram flour/kadalai mavu
1 teaspoon channa dal
1 teaspoon urad dal
1/2 teaspoon mustard
Salt
Oil for tempering
Few cilantro leaves for garnishing
Juice of half lemon
Method:
1.Boil and peel the potatoes.Mash them slightly.There should be chunks of potatoes left.
2.Heat oil in a pan and temper with mustard,channa,urad dal and chillies.
3.Add onions and fry till translucent.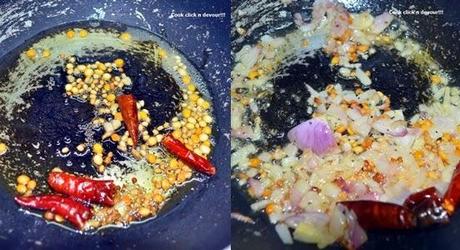 4.Add the green peas,potatoes,turmeric and chilli powder.Mix well and saute for few minutes.
5.Add 2 cup water and salt.Cook for 10 minutes till the gravy thickens.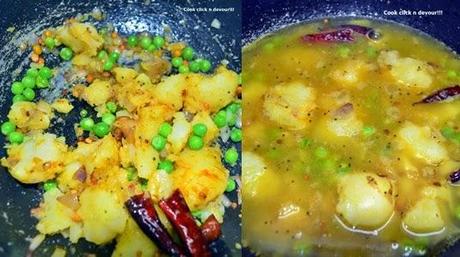 6.Dissolve gram flour in 1/4 cup water and add to the gravy.Cook till the gravy thickens and uniform.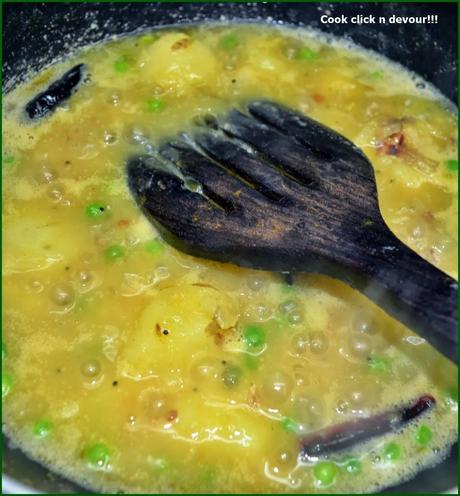 7.Garnish with cilantro leaves,add leon juice and mix well.Serve hot with puri.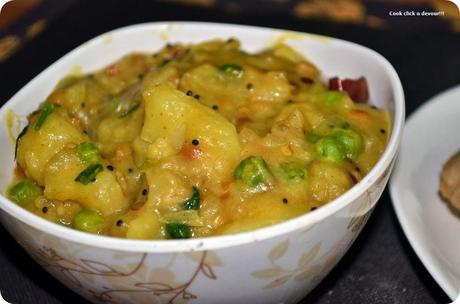 Notes:
1.I have seen some recipes with corn flour,but gram four gives a very nice taste in this recipe.
2.Green peas is purely optional.
3.You can also add green chillies instead/along with red chillies.