In the "Manage" section of Cydia, there are three choices. Packages, sources, and storage. I will be talking about what sources is.
      Sources are different websites that have their selection of apps and tweaks. For example, if I want to download a certain app, but it's not on Cydia, I would have to add a source to get that app. Some really good apps/tweaks are not available unless you add a certain source.
       Some sources can be used to download Cydia apps that cost money. Lets say that an app you want to download costs money, but you don't want to buy it. You just have to add the source for free Cydia apps, and then you can download their version of the app.
Now that you know what a source is, I'll teach you to add them.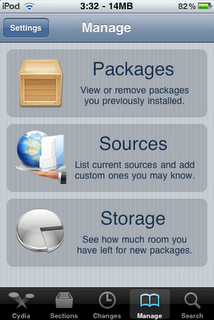 1. Open Cydia
2. Go to Manage-Sources.
3. At this screen it shows the current sources. To add a source, tap "Add" at the upper right hand corner.
4. Now, you have to type in the source you want to add. I have included some sources below.
5. Once you have added the source, Cydia will make sure it is a valid source.
6. Then Cydia will install all the packages from that source.
7. Now, you have installed new packages for you device!
Here are some of the best sources.
SiNfuL iPhone- 

http://www.sinfuliphonerepo.com (this one has cracked Cydia apps!)


xSellixe- 

http://cydia.xsellize.com (this one also has cracked Cydia apps) 


Hackulo.us- 

http://cydia.hackulo.us


                                                         Modmyi- 

http://apt.modmyi.com/


                                                         iAcces- 

http://www.iacces.com/apt/


                                                         iPhoneTechie.com- 

http://cydia.myrepospace.com/iPhoneTechie/