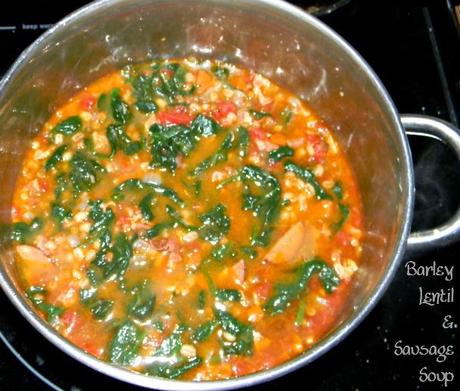 "Soup is good food".
Genius, no?
I wanted to school at Pratt Institute in NYC but my parents spent my college money on a trip to Hawaii. Might have been a waste of money anyways, I am no where near as creative as the chap who came up with that saying. Campbell's built an empire around that one line. Soup can heal all that ails you.
Saturday I was allowed a "ME" day and was "ordered" to eat and drink what I wanted (or didn't want) and just relax. Hmmmm, I wonder what he wants?
Whatever it is, he can have it. A day off from cooking was exactly what the doctor prescribed. I recommend a ME day for everyone. I woke up the next morning ready to cook up a storm and got so much work done. I was even allowed to sleep late and got coffee in bed. Weeee Yo!!
Hmmm, nothing yet. He has to be up to something. Ahhhhh, I figured it out.
Why was
The Nudge
in such a generous mood? I was in a food rut and he is well aware that while in a rut, he gets fed poorly. No matter how much we eat, drink, sleep and breath food, we all get into those times when we are tired of food. It only lasts a few days, but it feels crappy. One can only eat hot dogs and PB&J sandwiches but a few times before they crave a good comfort meal.
First recipe on the menu is this hearty healthy savory soup that I spotted over at Better Homes & Gardens.
What caught my eye was the barley (a great grain for diabetics), the lentils (have been looking for a vehicle for French Puy lentils I had), the chicken sausage and spinach. I did not have to buy a thing, my pantry came through once again.
Just so happens it's been 10° below average temps for this time of year and a warm bowl of soup will be well received. I have dinner rolls that just have to be toasted and dinner is served. Since prep was minimum, this dish came together in under 1 hour. Most of it gently simmering away on it's own with an occasional stir. I would say this recipe makes a good candidate for your slow cooker. A nice dish to come home to. If lentils are not your cup of tea, I can recommend a canned small white bean and can even vouch for black eyed peas.
This reminds me a take on Carrabba's Lentil and Sausage Soup with barley.
As my rut was slowly disappearing into the sunset,
The Nudge
grabbed his handkerchief and blew his nose. I smiled and I felt back to normal. Nice to be appreciated.
"Ahhhh, you missed my cooking that much dear?" "No, honey, the soup is just making my nose run".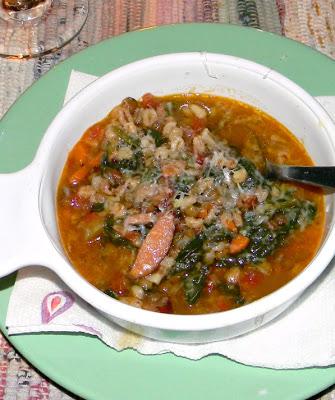 Lentil-Toasted Barley Soup with Sausage
Adapted from bhg.com
serves 6 (1 1/2 cup) servings*
1
tablespoon
olive oil
*
1/2
cup
regular barley
* 1
cup
chopped onion (1 large)
* 3/4
cup
chopped carrots
* 2
cloves garlic, minced 
* 2 teaspoons
teaspoons
ground cumin 
* 4
cups
reduced-sodium chicken broth
* 1
cup
water 
*
1/2
cup
lentils, rinsed and drained 
* 1 bay leaf 
* 14 1/2
ounce
can
no-salt-added diced fire-roasted tomatoes, undrained
* 6
ounces
cooked chicken-apple sausage links, halved lengthwise and sliced
* 4
cups
fresh baby spinach
Directions
1.
In a 3- to 4-quart saucepan heat oil over medium heat. Add barley; cook and stir for 3 to 4 minutes or until barley is golden. Add onion, carrots, and garlic; cook about 10 minutes or just until vegetables are tender, stirring occasionally. Stir in cumin; cook and stir for 30 seconds more.
2.
Add broth, the water, lentils, and bay leaf. Bring to boiling; reduce heat. Simmer, covered, about 55 minutes or until barley and lentils are tender. Stir in tomatoes and sausage; heat through. Remove and discard bay leaf.
3.
Add spinach, stirring until spinach begins to wilt. Ladle soup into serving bowls. Serve immediately.
Nutrition Facts
(Lentil-Toasted Barley Soup with Sausage)
Servings Per Recipe 6,
cal. (kcal) 245,
Fat, total (g) 7,
chol. (mg) 32,
sat. fat (g) 2,
carb. (g) 33,
Monosaturated fat (g) 2,
fiber (g) 10,
sugar (g) 5,
pro. (g) 14,
vit. A (IU) 4859,
vit. C (mg) 15,
Thiamin (mg) 0,
Riboflavin (mg) 0,
Niacin (mg) 3,
Pyridoxine (Vit. B6) (mg) 0,
Folate (µg) 165,
Cobalamin (Vit. B12) (µg) 0,
sodium (mg) 645,
Potassium (mg) 440,
calcium (mg) 81,
iron (mg) 4,