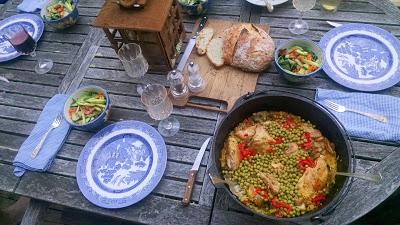 Arroz con Pollo, aka Chicken and Yellow Rice, is a standard of Tampa cuisine. It's probably the most often ordered of the many dishes in the Spanish restaurants of Ybor City and it was a popular favorite in my home when I was growing up. 
My mother was an excellent cook (for the Fifties, anyway -- there were a fair amount of Jello salads and Cream of Mushroom soup made its stealthy way into more than one casserole,) but she didn't cook Arroz con Pollo.  My father would  stop by one of the Spanish restaurants on his way home from work and arrive with a container of the wonderful stuff. 
Alas, no such convenience here. But I have a cookbook and here's my best shot at duplicating Tampa soul food.
(Claui took the pictures with her phone -- amazing quality, I think!)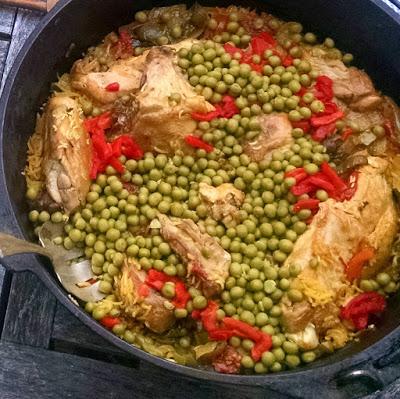 Arroz con Pollo (6 servings)
 ( adapted from the Las Novedades recipe as found in Clarita's Cocina)
1 chicken (cut into pieces – breasts, legs, thighs, wings, backs)
½ cup olive oil
1 onion, chopped
1 green pepper, chopped
1 large ripe tomato, chopped (or substitute about a cup of canned tomatoes or chunky salsa)
3 garlic cloves, minced
1 TB. Lemon juice
1 bay leaf
1 TB salt
Hot sauce to taste
2-3 packets Goya Sazon
1 cup hot chicken broth
¼ cup dry white wine
Parsley
2 cups long grain or basmati rice
2 ¼ cups chicken broth
Green peas and pimento strips for garnish
More dry white wine
Sauté chicken in olive oil in a skillet till just golden. Remove to covered casserole (that can be used on the stovetop as well as in the oven.) To the oil in the skillet add the onion and green pepper. Sauté till translucent. Add tomato, garlic, lemon juice, bay leaf, salt and hot sauce and cook till mushy.
Dissolve Sazon in I c. hot chicken broth and combine with ¼ cup wine. Pour into skillet with mushy mixture, add some parsley, and stir well. Pour this mixture over the chicken in the casserole, cover and cook on medium heat till chicken is tender (about 15 minutes.)
Add rice to chicken and stir to distribute thoroughly. Add 2 1/4 cups chicken broth, stir once, bring to a boil, cover and put in preheated 325 oven for 20 minutes. Do not overcook.
Remove from oven. Garnish with peas, pimento strips, and sprigs of parsley. Sprinkle with dry white wine and let stand 15 minutes before serving.