I love Asian food.  Steamed vegetables and tofu in a spicy Thai coconut curry sauce.  Moo shu vegetable (no egg of course) with some great hoisin sauce.  Vegetable naruto rolls with pickled radish and avocado wrapped in paper-thin slices of cucumber.  The list goes on. Today I found Bambou Asian Tapas and Bar in Greenwich, Connecticut.
The owner, Yona Hsieh, was born in Taiwan and inspired by her grandmother's cooking.  "Every day, I would watch my grandmother working in the kitchen from dawn until dusk, and it is "Food" that brought everyone together."
Today, after receiving formal culinary education at the French Culinary Insitute, and being inspired by the "street foods" found throughout Asia,
Bambou
was born, boasting fabulous sushi, flavorful appetizers and an extensive sake list.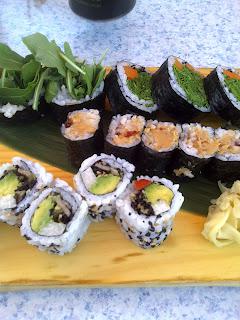 There are so many vegan friendly options here. Hot appetizers including Roti Canai, a malaysian style Indian bread with a vegetable curry dip, sweet potato tempura fries (no egg in the batter!) and the classic, edamame with sea salt.  
Salads with ginger dressing or a mago and jicama blend, two kinds of seaweed salad and miso soup with tofu also grace the appetizing portion of the menu.
If you want a vegan entrée you can try the Pad Thai, Yaki Udon or Singapore Rice Noodle and even pair it with garlic mixed vegetables, sauteed bok choy or string beans.
I opted for sushi.
Not cucumber and avocado (though it was an option) or oshinko, but a Mimi Roll: hijiki seaweed, jicama and avocado, and an Arugula Roll: raw arugula and blanched carrots with ginger dressing on the side. I could have also selected the Spicy Kimchy and Mango or the House Vegetable but guess what I got for "dessert" ~ the PB & J Roll!  Yes, you guessed it ~ creamy peanut butter and jelly wrapped in rice.  I'm assuming this is on the menu to satisfy children who come with their parents and aren't quite the adventurous eater, but it was fun to try.
The next time you find yourself in Greenwich be sure to check it out.
If it's warm enough sit outside and enjoy the view of the old mill on which it sits.
If you're not in this area, now you have some inspired recipes to try next time you make sushi at home!