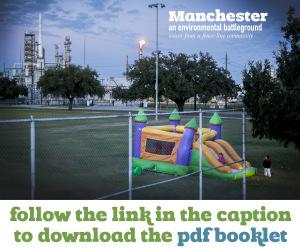 Tar Sands Blockaders have been organizing in Houston's east end in the neighborhood of Manchester and something is brewing. There have been lockdowns, blockades, youth empowerment programs, free stores, hunger strikes (26 days and counting), and plenty of seeds of resistance sowed.
Follow this link to download a .pdf booklet with high resolution photos and learn all about how Tar Sands Blockaders are working to help amplify the voices of this Latino community which corporations like Valero are desperately trying to silence.  The Valero refinery in this neighborhoods only park is one of the destinations of the toxic tar sands that will be carried through TransCanada's Keystone XL Pipeline.
NO TAR SANDS IN MANCHESTER!  KEYSTONE SPILLS, VALERO KILLS!