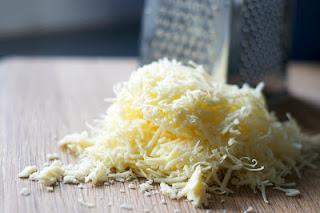 Nothing complements pasta dishes, roasted vegetables, soups, and salads quite like freshly grated cheese. Not only does it add flavor and texture, but a little goes a long way so you don't need a lot of it. If you're pressed for time, you can buy grated cheese in a container at the grocery store, but the best way to get maximum flavor is to grate your own. Here are some helpful tips:
Get a Good Cheese Grater
There are many different types of cheese graters. Perhaps the most common is the box grater, which has both fine and coarse holes for grating or shredding both hard and soft cheeses. For very finely grated hard cheeses, like Parmesan, a Microplane zester/grater, which looks like a carpenter's rasp, is ideal. And for grating hard cheese at the table, let guests pass a stainless steel rotary cheese grater. If you're looking to grate a lot of cheese, but are pressed for time, you can use a mini chopper or food processor with the grater attachment.
Storing Grated Cheese
Both hard and semi-hard grated cheeses lend themselves to freezing in small airtight plastic containers. Parmesan, Gruyère, Asiago, Cheddar, and Jarlsberg are just some types that freeze well after grating. You can store grated cheese in the freezer for three to six months and use it anytime without defrosting.
Choose Your Textures
Finely grated cheese is ideal for sprinkling on soups, salads, and pasta dishes. For casseroles, quesadillas, pizza, and other dishes that incorporate the cheese, shredded cheese is best because it melts more slowly during cooking.
Mix and Match
Rather than simply using one grated cheese for sprinkling or cooking, prepare a few and mix them together (and freeze them together, too!). For example, change things up with a mix of Cheddar, Romano, and Monterey Jack cheese, or Asiago, Gruyère, and Parmesan. Ask the cheese salesperson at any gourmet grocery store for other good combos, and remember to choose reduced-fat varieties.
**The above article is taken from South Beach Diet.