Since I review live opera performance and have critiqued more than 60 operas in six years, I often wonder what goes on in the heads of fellow operagoers while I am waiting for Act II to start or watching a large set revolve during a scene change.
Like any artist or production you are seeing live, whether bluegrass, acid rock, or verismo opera, it can be a thrilling experience. While operagoers are unfairly stereotyped as being stuffy, they are passionate about showing their appreciation for stellar performances. While watching a matinee production of The Elixir of Love by New York City Opera, breakout tenor David Lomelí stopped the show with an ovation lasting 30 seconds following the aria I refer to in a new story on my writing blog called Love Bade Me.
Apparently on opening night, the ovation lasted two minutes. Try clapping for two whole minutes straight. Or even 30 seconds. That is an eternity of adoration for any performer. The ovation brought Lomelí to visible tears, per the Times review by Zachary Woolfe.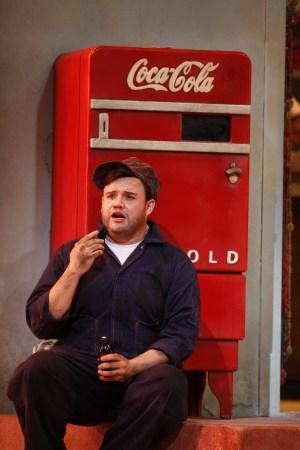 Tenor David Lomelí as Nemorino in Donizetti's The Elixir of Love | photo by Carol Rosegg courtesy of New York City Opera
Because of some hefty legends of the form like Pavarotti, people think opera stars are always fat ladies or big-boned men.
Some sopranos are svelt, even tiny. Many male singers can send their voices to the rafters without the Pavarottian heft. They can be very charismatic, winning hearts and ears after only singing a few bars.
For instance, operagoers swoon over baritione Nathan Gunn. Confident, impossibly charismatic with leading-man looks: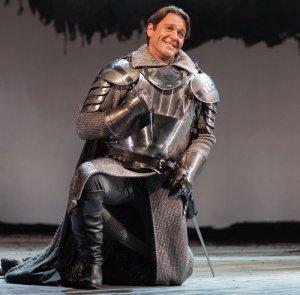 Baritone Nathan Gunn as Lancelot in Camelot, 2013 | photo by Karli Cadel courtesy of Glimmerglass Festival
And there are many other highly charismatic opera stars, those at the peak of their careers and also rising stars. Their gifts lend live performance that priceless ephemeral quality that brings live audiences back for more.
Most of my stories are spurred by an experience, an image, or a turn of phrase. Once I watched an elegant lady at a Met matinee (just shy of gawking) and from that shard of an image burned into my gray matter, I developed the storyLove Bade Me. It only took a wee bit of people watching for my imagination to catch hold.
You can read Love Bade Me on ScrivenGale.
Incidentally, you can read my reviews of these productions here: The Elixir of Love (2011) and Camelot (2013).