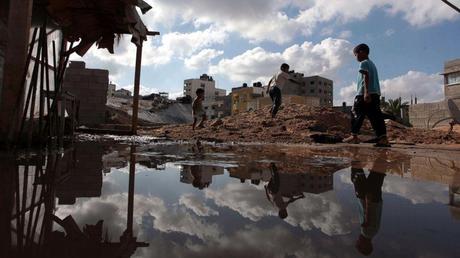 Palestinians inspect a house destroyed in air attacks staged by the Israeli army in Gaza City, Gaza, July 14, 2014. Ashraf Amra/Anadolu Agency/Getty Images
from Earth First! Newswire
The unrelenting bombing of Gaza is just another manifestation of the slow genocide against the Palestinian people that has been carried out for generations.
An oppressed people have every right to fight back against their oppressors. There is no equivalence between Israeli aggression and Palestinian self-defense, just as there is no justification for the actions of the State of Israel. The reason for the present attacks is a unity government between Hamas and Fatah, which would strengthen the bonds of the people of Gaza.
We recall that the same corporations building the illegal Israel-Palestine border fence are building the US-Mexico border wall. The same people who fund Israeli genocide and displacement against Palestinians also fund the attack on the planet. The US military-industrial complex is the single-most environmentally destructive force in the world.
While we stand with all people in condemnation against the deplorable actions and attitudes of the State of Israel's ruling elite and their apologists, we also reject anti-semitism in the strongest terms. The work of these slaughterers is to divide people—Israelis from Palestinians; Palestinians from one another—so that they can rule through fear and mendacity.
Liberation and solidarity!