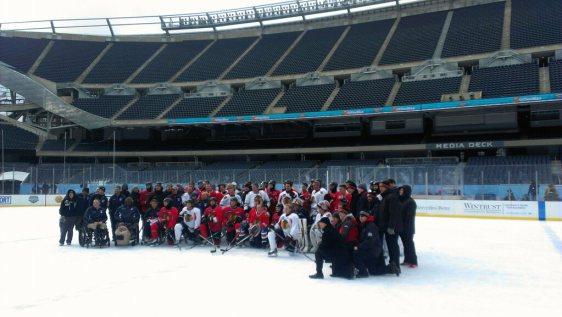 The Chicago Blackhawks pose for a picture at Soldier Field. They skated with the USA Warriors Ice Hockey Program.
The NHL announced today that the Chicago Blackhawks will be hosting the Pittsburgh Penguins at Soldier Field March 1, 2014.
The game is part of the 2014 Coors Light NHL Stadium Series.  The Chicago game announcement is part of many to be announced in coming weeks.
In 2009, the Chicago Blackhawks hosted the Detroit Red Wings at Wrigley field before 40,818 fans.
The Penguins have played in two outdoor games.  In 2008 they played in the first outdoor game against the Buffalo Sabres in Ralph Wilson Stadium.  Three years later they hosted the Washington Capitals at Heinz Field.  The 2011 NHL Winter Classic was the most-watched NHL regular season game, averaging 4.5 million viewers.
Soldier Field hosted two college hockey games in February.  The Blackhawks skated with the USA Warriors Ice Hockey Program as well.
Will you attend the game?
<a href="http://polldaddy.com/poll/7075125">Take Our Poll</a>