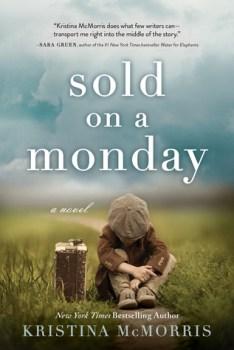 Sold on a Monday by Kristina McMorris
Published by Sourcebooks Landmark on August 28, 2018
Pages: 352
Goodreads
Buy on Amazon

From New York Times bestselling author Kristina McMorris comes another unforgettable novel inspired by a stunning piece of history.

2 CHILDREN FOR SALE

The sign is a last resort. It sits on a farmhouse porch in 1931, but could be found anywhere in an era of breadlines, bank runs, and broken dreams. It could have been written by any mother facing impossible choices.

For struggling reporter Ellis Reed, the gut-wrenching scene evokes memories of his family's dark past. He snaps a photograph of the children, not meant for publication. But when it leads to his big break, the consequences are more devastating than he ever imagined.

At the paper, Lillian Palmer is haunted by her role in all that happened. She is far too familiar with the heartbreak of children deemed unwanted. As the bonds of motherhood are tested, she and Ellis must decide how much they are willing to risk to mend a fractured family.

Inspired by an actual newspaper photograph that stunned the nation, Sold on a Monday is a powerful novel of love, redemption, and the unexpected paths that bring us home.
With all the news these days about horrible things happening to children, when I saw this book, Sold on a Monday by Kristina McMorris available on NetGalley for review, I requested it and was approved.
Sold on a Monday is a wonderful piece of historical fiction that takes place in and around the newsrooms of Philadelphia and New York City back in 1931.  The story begins with a picture on a porch taken by Ellis Reed in rural Pennsylvania of young children in front of a "for sale" sign. Ellis takes the picture while he's waiting for his overheated car to cool down. 
Lily Palmer, the secretary to the Editor in Chief, sees the photo and gives it to her boss at the newspaper, who then asks Ellis to write a feature story to accompany the photo.  The original photo accidentally gets destroyed, so the paper asks Ellis to take another.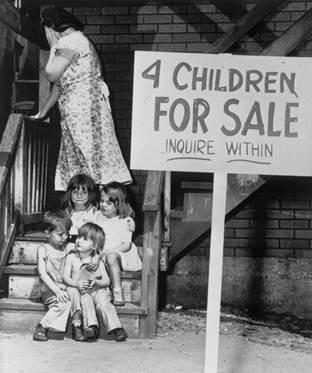 Ellis returns to the place where the children were hoping to find them, but they are gone but the sign is still in the yard so he decides to stage another picture by asking two neighbor kids, Ruby, 8, and Calvin, 5, to pose. Ellis feels guilty about this staged photo, but he thinks the story is important enough to justify the "recreation".  The more compliments he gets and the more success the story achieves, the more Ellis feels plagued by his conscience plagues.
At the same time, Ellis Lily have been struggling to succumb their attraction to each other.  After Ellis thinks he has lost out to the top crime reporter at the Philadelphia Examiner, Ellis decides to accept a position covering news at the New York Herald Tribune.  Later, Ellis and Lily get together again when they learn that the second set of children have also been sold. Ellis and Lily work together to find out what has happened to the children, and in that process, they also find out about what matters to them the most.
This is captivating historical fiction from a reporter's point of view, as well as others in that business in the 1930s. This story takes readers on a journey through the lives of reporters and newsrooms, single mothers and families living in poverty, and even encounters with the Mob. It shows the huge discrepancy and imbalance in the US in the early 1930's between the rich and the poor.  If you're anything like me, you will be reading a few more of Kristina McMorris' novels after reading this one. 
---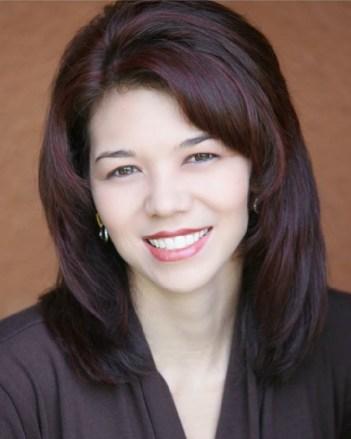 Kristina McMorris is a New York Times and USA Today bestselling author published by Sourcebooks Landmark, Kensington Books, HarperCollins, and Penguin Random House. Inspired by true historical and personal accounts, beginning with her grandparents' WWII courtship letters, her novels have garnered more than two dozen prestigious awards and nominations, including the IMPAC Dublin Literary Award, RWA's RITA® Award, and a Goodreads Choice Award for Best Historical Fiction. Kristina's novel, Sold on a Monday (Sourcebooks, Sept. 2018), follows her widely praised The Edge of Lost, The Pieces We Keep, Bridge of Scarlet Leaves, and Letters from Home. In addition, her novellas have appeared in the anthologies A Winter Wonderland and Grand Central.
Prior to her writing career, Kristina was a PR director and host of weekly TV shows, starting with an Emmy® Award-winning program at age nine. She also owned a wedding- and event-planning company until she'd had her fill of YMCA routines and drunken chicken dances. Named one of Portland's "40 Under 40" by The Business Journal, Kristina lives with her husband and two sons in Oregon, where she is working on her next novel.
Connect with Kristina – Website – Facebook – Twitter
---
I was provided with a complimentary electronic advanced reader copy of this book from Sourcebooks Landmark through NetGalley in exchange for my post.  I was not required to post a positive review, but have chosen to do so because it was a great story!
~ ~ ~ ~ ~ ~ ~ ~ ~ ~ ~ ~ ~ ~ ~ ~ ~ ~

It would be great if you would stay connected with me!! You can follow me on Twitter @DebiL1611, like me on Facebook at 2014 and Beyond, circle me on Google+, follow me on Tumblr, Instagram and Bloglovin', subscribe on YouTube, or connect with me on LinkedIn and Pinterest.

Please make sure to visit my homepage and subscribe to my blog for more great posts on running, fitness and lifestyle topics as well as food, product, music and book reviews, and more!